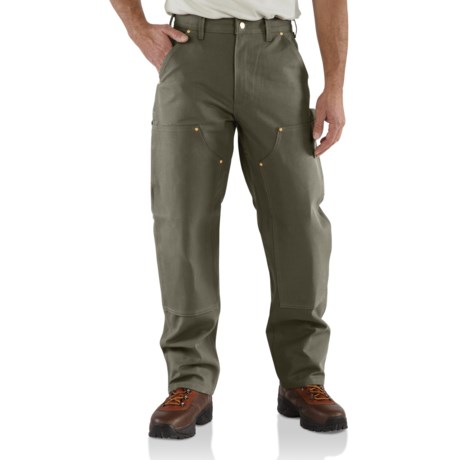 is it duck or is it denim?
Verified Buyer
Reviewed by rocket from western ma on Tuesday, June 17, 2014
I use Carharts for work. I'm a carpenter. I'm either picking up something pokey or getting snagged on something pokey, and I am usually crawling around on my hands and knees for days at a time. I jokingly think of them as my mobile drop cloth. I can't wear jeans because they wouldn't last a week. Carharts last a few months. But they need to be duck. I think of duck as 12 ounce fabric and the lightest of canvas at 9 ounces. So "jeans" seems like 10 ounces. These Carharts are not made out of duck. That makes me crazy. The title misled me, made me think the cut was "jeans" and the fabric duck, but these aren't duck and who knows, maybe the cut is jeans as well. There is an awful lot of fabric, made for a giant that is 32/30. Hmm? Three stars. Why? because I will use them, wear them right out and at some point during the day I'll be thankful that I didn't shell out sixty bucks.