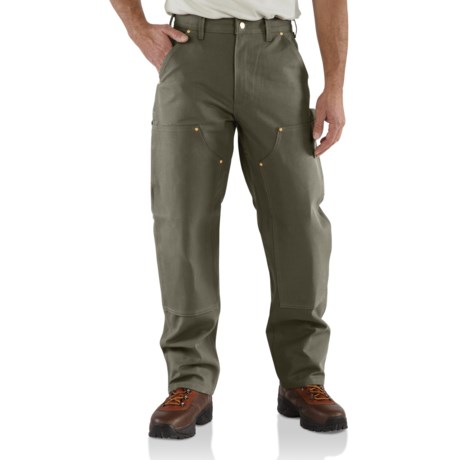 Strong and comfortable
Verified Buyer
Reviewed by RandyGBlues from Nor. California on Monday, November 9, 2015
For years I wore 501's outdoors when working, but the Carhartt Duck Jeans - Double Knees are excellent and have become my go-to work pants. I have been wearing them for a few weeks now, cutting and clearing brush on my property, crawling under my deck, in the dirt and over rocks for some repair work, cutting and gathering firewood, clearing ditches in preparation for the rain, and more. They are comfortable and tough. The relaxed-fit is welcomed, and the fabric is tough. Two layers on the knees makes it a lot more comfortable when kneeling in the dirt, and should help them last a long time.

My normal pants size is 32x30 and that is what I ordered. The length is cut a bit long, which is good, because they cover boots well even when sitting or kneeling, etc. They are quite comfortable and I have not once felt them bind or pull when working.

The only negative I have found so far is that the pockets are sewn into the pants in such a way that they do not turn inside-out. Dirt and debris are difficult to remove from the pockets while you are wearing the pants.