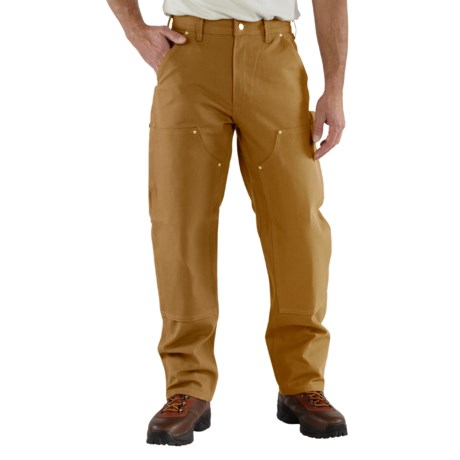 They are loose fitting. The slimmer style similar to these, but without the double knee, are B324. Also, keep in mind that the B324 is lighter weight fabric, good warm weather work pants

I would say loose in the legs, regular in the waist, hips, butt.

Regular fit

My husband is 6 ft. And 180lbs. These pants fit comfortably in the seat and waist and are loose enough in the legs to be comfortable working all day on trucks, tractors and running the wrecker. He does not wear any other pants. We can see nothing wrong with the 2nds. A very good buy.

I would call them a working fit. Bend stoop crawl, they fit like military pants able to get the job done and still last years.

Regular fit through waist, hips and rise. Thighs and legs are looser fit - not bad - room to move. Fabric is sturdy - not wearing them now because would be way too hot - will be good for winter. Washed twice in hot and dried hot to try to 'loosen' up the fabric - better after that. There was some shrinkage - still fit good - length lost about 1-2" but that's not a bad thing because the ones that I received were very long. I normally wear a 30"-31" length - I ordered a 32 (thought steel toed boots would make them too short if I ordered regular length) and still had to cut off three inches even after washing. Stick to your regular length.


they fit lose as my husband wears them over top another pair of jeans.

The way that they fit me is a bit loose. They aren't baggy by any means. I actually bought them originally for riding my Harley. The double knees help when rocks fly up from other vehicles.