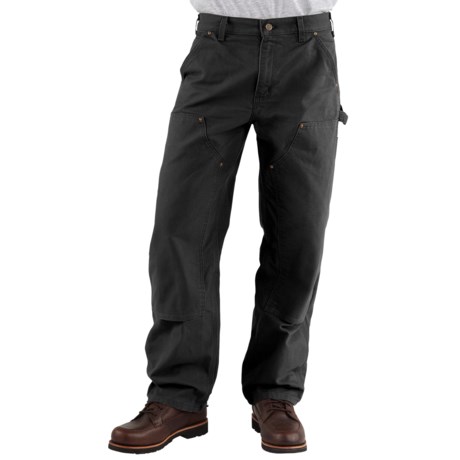 These are straight leg, but have plenty of room for standard boots. I have a pair of muck boots that the legs are two narrow to fit around, but the are great with work boots or cowboy boots

I don't know that they are designated as boot cut, but I have owned (4) pairs of these pants over the years and use them for hunting. I've always worn lace-up, 8" Danner boots with them and they fit just fine.

I bought these jeans in 38" Waist, 34" leg. They are definitely not boot cut and are slightly tapered (is that considered straight leg?). Mine are 20" diameter at the bottom of the leg and about 22-23" diameter at the knee.

Boot cut, they are not too "baggy", but for some reason (all carhartt Sierra sells) they come I little different, you could find one that would fit better than the other, happened to me with those I bought, one is little "baggier" than the others, got 4 of them.
Do not regret.

The pants that I purchased are boot cut. I had to go up a size in the waist for them to fit, the length was more than long enough for what I normally wear.