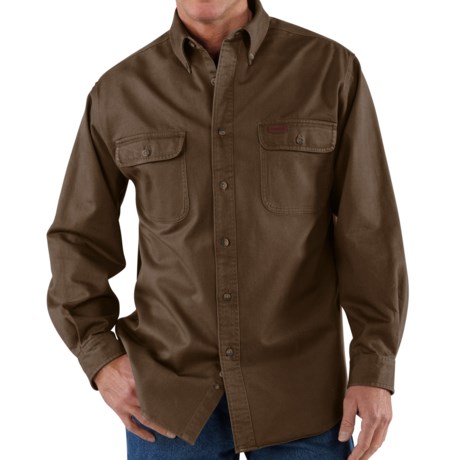 Carhartt Heavyweight Long Sleeve Shirt
Verified Buyer
Reviewed by Alphadog from West Tennessee on Tuesday, September 2, 2014
This is my first time buying from Sierra Trading Post so I was somewhat confused and disappointed when I received shirts with tags stating "irregular". I never realized that everything at Sierra is either 2nd's or Closeout. It's not like it's in the title or anything (except of course, here, on this review page, it's right under the title). On the actual sale page it's only in the "Overview". It's not in the "Specs" or anywhere else. Now I know why I got a "good deal" so to speak. I suppose it's "my bad" for not reading the fine print. I pretty much knew what I wanted and bought it without reading all about it. The thing is, as soon as I opened the shirts up, the first thing I noticed was the "imperfection", even before I saw the "irregular" tag. This was on both shirts I bought. The "imperfection" was in the button down collars and to "fix it" will require my handiwork with a needle and thread. Good luck to me.

Now for the not-so-bad part of the review. The shirts themselves were right on (except for the collars of course). They are just what I wanted (except for the collars of course) and for a price I can live with (because of the collars of course). I wish the "imperfection" was something other than the collars though. When they say they are 2nd's, they say "barely perceptible blemishes". Well, when it's the first thing I noticed when I opened them up, I wouldn't say "barely perceptible". I guess it's the luck of the draw with anything you buy here. I don't know.

My final opinion of Sierra Trading is this: They need to be more upfront with the fact that you're buying 2nd's. I know it's in the description but hey, would it kill you to make it a little more obvious to those of us who first, are "newbies" and second, know what we want and think we're getting a great price? There's no doubt the price is better than other stores and that's why I bought it here, plus the fact they accept Paypal. And who knows, I might even come back to shop sometime, maybe. But, next time I'll know for sure what I'm getting into. That makes the "deal" not quite as good as once thought.
Similar items and more information in the following areas: