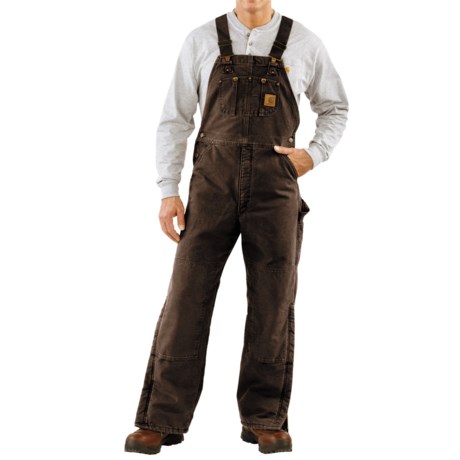 2xl

depends on whether he would want them loose or form fitting. My husband wears a jean size 40 and bought a 40 - they fit fine. Seems to be normal fit.

This particular item is sized according to waist and inseam measure. If he likes a little more room you might want to order up.

I am 5'6" and got a 32 x 30. I normally wear a 30 x 32, but the 32 length was too long with this bib. With the 32 waist, I can still put them over my clothes (jeans, polo fleece) and they fit perfect - snug - but not too tight or constricting. I don't know what size the XL or 2 XL is, but I think with Carhartt's they do fit a bit more snug.

I went by my husbands jean size 32 X 30, the overall fit was snug over his clothes. We sent the 32 X 30 back and ordered a size up on waist and length, fit great now. Nothing much wrong with them for being factory seconds, an extra button hole. Hope this helps.

Havent found anything wrong with them yet. Good Job

These bibs are sold by waist size and inseam length. I'm similar to your husband's dimensions, I wear an XL shirt size and 36 size waist with a 34" length inseam so I ordered my bibs in a 38 waist (one size up for me) and a 34" inseam and they're perfect size to go on over my regular layering clothes. The shoulder straps are adjustable and stretchy so you don't really need to worry about shirt size with these bibs, just order them by his pants size & they'll fit fine. If he wears multiple layers, I'd go up one size in the waist size. The "factory second" reason for mine happened to be an extra button slot on the chest pocket, it doesn't affect the look or function in any way at all...

I wear XL shirts and a 38 waist/34 length.( 6'4" 250lb) I got 42x34 and have room for jeans and a medium layer upper.