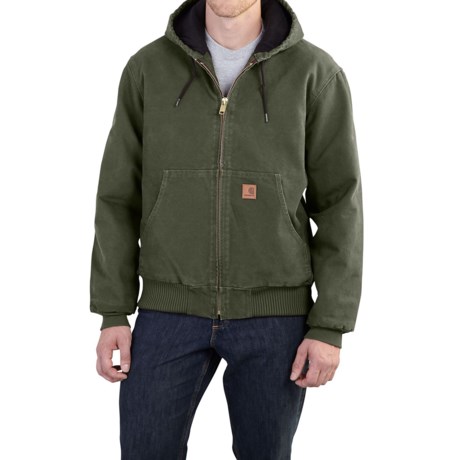 You can easily layer underneath this jacket. Its roomy and warm...a sweater underneath will definitly kepp you warm while working outside. Great jacket! .

This jacket has some heft to it, so unless you had a oversized coat, or perhaps a mechanic's style jumpsuit, I don't think it would be comfortable to wear under a coat. As for lightweight work, I believe this jacket would be suitable. It is roomy enough that if you wanted to wear long johns and maybe a flannel shirt, you would be good to go.We haven't had any real snow yet, but I fully intend to wear this once the flakes start flying.

Well, that depends alot on your own tolerance to cold. I've had two of these now and usually only dragged them out over a tee shirt when it was below 10 degrees, because I work up such a heat shoveling snow I can't stand anything too warm. I'm retired and only outside for a couple of hours at a time when shoveling. My son works construction, is not as naturally warm as I am, and wears this over two shirts and a thick hoodie. Our temps the last week have been around 30, windchill factor of 24, and when I go for a walk (not strenuous) I wear this over a light wool henley. My son has a tee and sweatshirt under this. Two extremes of natural body heat, and only you know what yours falls. It's an excellent jacket, and unlike so many products I haven't seen the quality go down at all over the years. I sew, so I look very closely at garment construction when I buy something, and was still impressed when I bought the newest one a month ago. Same heavyduty materials and zipper, very well- constructed. It's built to last.

I have used the Carhartt jacket in cold weather with a lightweight sweatshirt and it is fine. It has good freedom of motion. This jacket is a little large around the middle for me. I am 5'-10' and weigh 175 pounds. I hope to fill it out a little more this winter with Thanksgiving turkey and Minnesota lutefisk. It has been a very good value for the money. Grant the Swede

Yes, there is room for a lightweight sweater underneath. It would be perfect for plowing and shoveling as well. A men's small is what my daughter wears. She prefers the men's sizing so she has extra room for more layers. A coworker of mine has the same jacket and she wears it out on recess duty in Northern VT all winter.

This jacket was purchased for a Xmas gift, but I did take it out of the box when received and to answer all your questions: Yes, this jacket definitely can be used with a sweater or sweatshirt underneath and it will be quite warm, with plenty of room to move about freely. The jacket will be warm enough to do anything outside in the Iowa winters that we have here. If all goes well, I will order one for myself after Xmas.

As far as I can guess, this jacket is heavy enough to layer for you proposed use. Carhartt sizing is generally a little large, so if you order your normal size, you should have room to layer. Search often, I purchased the Arctic coveralls a few years ago. They carry what they can get when they get it.