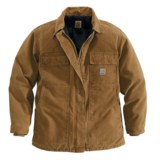 2nds, barely perceptible blemishes. When you purchase this Carhartt Traditional Arctic coat, you can depend on a lifetime of rugged wear. Sandstone finish on the cotton duck is a little softer than prewashed and softens the look and feel.
Average Rating based on
140
reviews
4.450000
0
5
Reviewed by NightshiftRN from Lehigh Valley, Pa. on Sunday, February 25, 2018

This is the best work coat I have ever bought. Unfortunately, Carhartt discontinued it. Their current coats for women are much less substantial. It was made out of 12 oz duck material and had the arctic quilted lining. Can't find that combination from Carhartt now, unless you buy a men's jacket. It's a shame that Carhartt no longer realizes that women need sturdy clothes too!! Please, Carhartt, bring THIS coat back! Also, I have tried it in men's and found the shoulders to be far too broad and the sleeves much too long.

Reviewed by Lori in water from Colorado on Sunday, March 31, 2013

I couldn't find the "2nd" nature of this coat - not sandstone but khaki-green. Really like the fit. No way cold weather gets through this coat. Shipping really quick with Sierra.

Verified Buyer

Reviewed by Copper's Buddy from Southern California on Saturday, February 2, 2013

I would use this at the barn on really cold days. The Carhart quality is there but the medium was too large for me although I normally wear a medium and it was too bulky for my small frame.

Verified Buyer

Reviewed by JC from Tennessee on Thursday, January 24, 2013

Warm, comfortable, durable, lots of useful pockets, this is a great jacket for working outside or walking the dogs in the cold. I'm about 5'4", 120 lbs. and ordered a large. This gives me room to layer it with a sweatshirt and vest on really cold days but with the inside draw cord it still fits good if I don't need those extra layers. Very happy with this jacket.

Verified Buyer

Reviewed by bk from colorado on Wednesday, January 23, 2013

Use these carharts to keep warm while out in the cold. They work very good!

Verified Buyer

Reviewed by KA gardener from Montana on Saturday, January 12, 2013

I needed a warm winter work and chore coat, this is it. Carhartt quality is always good, durable and lasts a long time. This coat is great. It is super warm, durable and I think I won't need another work coat for a long long time. I couldn't be happier with this purchase and the great price was a bonus.

Verified Buyer

Reviewed by D Dogs from Dover, NH on Tuesday, December 18, 2012

This is in no way a cute coat. It's a CARHARTT, which means it's well made, warm and practical. I loved it from the start and washing it made it even better. No amount of "princess seaming" is going to make this cute, but the length, shoulder gussets and sleeve closures make it warm, practical and comfortable. It does run large, but not overly. Just enough to layer, but you won't need to. I love this coat and look forward to it getting softer and softer over the years. Be careful of the zipper. It's large enough to pull a Mac truck and can skin your fingers if you run them up it by mistake. Other than that, it's GREAT.

Verified Buyer

Reviewed by Horse Lover from ND on Saturday, December 15, 2012

This coat is exactly what I needed to go out and do chores and work with my horses in the winter months. Roomy, so I can wear layers underneath, if I need to.

Verified Buyer

Reviewed by ak2or from Redmond, OR on Wednesday, December 12, 2012

Great all around jacket for for women.

Verified Buyer

Reviewed by The Farm at Morrison Corner from Mansfield, VT on Tuesday, December 11, 2012

Love the jacket, unfortunately, this unit had zipper issues, so it had to go back. But my husband has the men's version of this and has worn it for at least 5 years now, and under unrelenting abuse it is still whole... a major statement in durability.

And Carhartt, as a company, is a great firm. We had a couple of men badly burned in an industrial accident. While the company in no way suggests their clothing is fireproof, the only place they weren't burned was under their Carhartt jackets (which is probably why they survived). Carhartt sent both families new clothes in a supportive gesture. And shipped clothing to VT after hurricane Irene so farmers who'd been washed out had winter coats.

So. We wear Carhatt.. great clothes, wear forever, made by an awesome company.