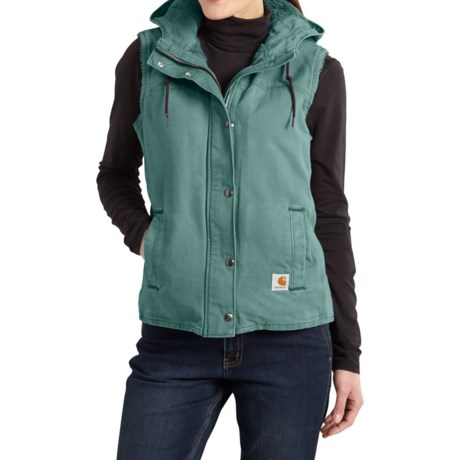 Yes....I normally wear a medium .....but I got to get a large ...because they run small.

Hope this helps..........and if not the return policy is wonderful.

I usually wear a small. Got a medium in the vest and it fits perfect...Not too loose

I usually wear a size 4 in my clothing (5'5", 105 lbs). The small Carhartts would be large enough to werar over a hoodie, but I think the x-small would be more fitted. On my rame it would not hug completely, but I think it would look nicely shaped uover a thermal or normal tee.

I think they fit true to size. I don't know if that helps you decide, but I thought the XL that I got was just right for me.

I would stick to a size small. My daughter in law is petite , & I got her a med. and it 'a great fitting on her, she can thin layer or go thicker...and don 't forget with Sierra's easy exchange , if I 'm not correct it is a breeze to exchange over the phone.

I do not know anything about the size of the parka. We bought this for my daughter-in-law in XS. She is 5 feet tall and weighs 100 lbs. She can wear it over a sweater, sweatshirt, or a tight- fitting Hollister jacket. I don't think it would look to large over a baselayer on her. I have it in XL and wear it with light sweater or base layer. I could wear a sweatshirt under it and it would fit - depends on how bulky it is. It seems true to size based on the chart. Daughter in law is a 0-2, I am a 14. Originally bought the XL for room and it was too big in the chest. Returned and L fits perfectly.

Most likely. But also keep in mind that this vest is pretty bulky with the Sherpa lining!

This was a gift for my daughter-in-law and unfortunately she is out of town until tomorrow night. I will ask her and let you know.

I don't have the Camden Parka but I do have the Berkley Parka. In that I got a small as I have broad shoulders and need the room in the arms and shoulders of the small. However, I got the XS in the vest as since I don't need the room in the chest. The lack of sleeves gives me more room for my shoulders and I too like to wear my vests close and with light base layers. Hope this helps!

I bought the XS for my future daughter-in-law, and it is fitted. She liked it, and I can't tell you if it's a lot smaller than a small, just that she was happy with the fit!