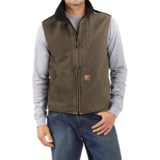 2nds. Layered over a flannel or thermal, the soft sherpa lining of Carhartt's sandstone mock neck vest turns into a warmth superhighway that drives heat straight to your core.
Average Rating based on
159
reviews
4.471698
0
5
Verified Buyer

Reviewed by Märo from Santa Cruz California on Wednesday, March 8, 2017

I dig this thing! Worm, solidly made, good looking, a boon to my clothing arsenal. The collar can be a little odd out of the box but it gets better with time. I love the fuzzy pockets!

Verified Buyer

Reviewed by CL from Souther Illinois on Tuesday, February 14, 2017

This is/was a great product and I have already purchased a replacement. The one I received from STP was the wrong size. I bought it at a rather large discount becasue it was a second... Now I see why .... It should have been a 2x but was closer to a 5x... having it in my hands, I was able to verify the item was what I wanted (material, weight, placement of pockets, etc) and after I made arrangements for the return, I ordered a replacement.

PS: It's not STP's fault either... this item was marked "2nd" and I know now it is becasue of it's irregular size.
CL

Verified Buyer

Reviewed by Greg from Washington on Saturday, February 11, 2017

If this is a 2nd , i can't figure out why. Looks and feels perfect to me.

Verified Buyer

Reviewed by j from new york on Thursday, February 9, 2017

Love my new vest .

Verified Buyer

Reviewed by ROutdoors from Montana on Wednesday, February 8, 2017

I'm a big fan of the warmth the sherpa lining provides. This vest will be a work vest and fits nicely under my Carhartt coat.

Verified Buyer

Reviewed by jimmyplz from California on Monday, February 6, 2017

this vest is an awesome addition to anyone's outdoor wardrobe. It does a great job of keeping your core warm whilst providing maximum arm maneuverability. I never realized how restrictive jackets are until I got this bad-boy. Plus if you wear it with a flannel underneath (and grow a beard) you'll look grizzly as heck. I would recommend this to anyone. I got a size small and it fit perfectly (I'm 5'6" 140 lb)

Verified Buyer

Reviewed by Lou from Florida on Wednesday, January 25, 2017

Very comfortable and made with great quality!

Verified Buyer

Reviewed by Cave Man from Mississippi on Sunday, December 25, 2016

Great quality, fits perfect, and fast shipping.

Verified Buyer

Reviewed by Nathan from WA on Sunday, December 25, 2016

Decided I wanted a vest for work. Couldn't decide if I wanted to spend almost $100 for one. Saw the sale price, and instantaneously pulled the trigger.

Vest is perfect for my job. I'm outside all day exposed to the elements, and work laboriously. I usually get overheated wearing a coat and get cold if I'm just wearing a hoodie. The vest keeps my core warm and allows my body to cool down adequately too.

Quality of the vest is outstanding. I mean, it's a carhartt! Full metal zipper, durable duck fabric and reinforced stitching.

Also, the pockets are also lined with the same wool type material as the inner lining.

Verified Buyer

Reviewed by Tahoe Greg from San Rafael on Saturday, December 17, 2016

Very well made product, loojs great, BUT not true to size!