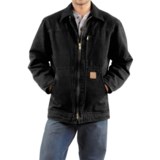 2nds. Legendary Carhartt durability plus rugged 12 oz. cotton and sherpa pile lining make Carhartt's Sandstone Ridge coat a great choice for tough chores in cold weather.
Average Rating based on
310
reviews
4.593548
0
5
Verified Buyer

Reviewed by Jac4315 from Iowa on Tuesday, April 11, 2017

I bought this for my husband and he usually wears a medium. This fit my brother who is about 6'1 180 lbs. Great coat, just be cautious when picking a size :)

Verified Buyer

Reviewed by Lily H from Vermont on Thursday, March 16, 2017

Size runs very large. Ordered a medium, and had to exchange for a small. Honestly, an extra-small would be better. For me, 5'5'', 125lbs, shoulders are much too big, but the sleeve length and hips fit alright. I bought this to use at work in the winter, and it's so far holding up very well and is warm. Carhartt is durable as ever.

Verified Buyer

Reviewed by jcsfny from Brooklyn, NY on Wednesday, March 8, 2017

The shoulders are so wide and ballooned out. Wearing it makes me appear like the Michelin Man. Why the shoulders are so exaggerated is mystifying. If they would only revisit that design flaw, this jacket would be a winner.

The jacket is really good looking. The pockets the best design on any jacket I have seen anywhere online. Just cannot wear it as is.

Verified Buyer

Reviewed by Selina from AL on Monday, February 20, 2017

Coat was beautiful just picked the wrong size and it was too big.

Verified Buyer

Reviewed by Builder Man from Montana on Sunday, February 12, 2017

You cannot get a coat that is so warm and lasts so long in all work conditions. I even find myself wearing it around my farm as it is very comfy.

Verified Buyer

Reviewed by Jamy from NY on Sunday, February 5, 2017

I purchased this coat looking at the picture when i received it it is a nicely made coat but when try it on the shoulders are very big puffy i am a well built guy with wide shoulders but this thing is look funny look like i have shoulder pads installed everywhere else is fits good so it is the right size, also the neck is very low should go higher ....at the end i had to return it the design needs to be fixed many other people complain about the same issue and if you look at the pictures on amazon you can see the shoulders are puffy looking .....

Verified Buyer

Reviewed by Myles from AZ on Sunday, January 29, 2017

From what I can tell the only issue is that the sizes appear to be incorrect, I bought a medium and it fits like a large, it's plenty big so take that into consideration when ordering. Next batch may be different?

Verified Buyer

Reviewed by Terry from AR on Friday, January 27, 2017

Nice quality in this coat but it does run large in the shoulders and width. Kind of looks like it's been hanging on a wide hanger the way the shoulders stick out. My husband got a large (his usual size) and we had to return it. It was very sloppy looking and more like an XL. The Small was also big but I got it for my 14 yo son, so I know he'll grow into it.

Verified Buyer

Reviewed by eyelean54 from Cape Cod area on Thursday, January 26, 2017

Medium size fit my hubby perfectly. He is 5'11 & 160 lbs. As it was a surprise, I was not sure of size. Duh! I checked his well worn old one which was a medium. Good thing as I almost ordered the large which would have been to big. Hubby dresses in layers so he still had room for a shirt & sweater underneath. It is somewhat snug but not too tight. I chose a color similar to the popular color-sort of a muted slate beige brown. Well made - I could not find the "second". Very warm and looks like it will last.Hubby likes the longer length as it covers his lower back waist area from the elements. Hubby's last one performed for well over a decade. I also got the jacket in a medium - hubby is looking great! I got both jackets for less than the cost of one elsewhere!

Verified Buyer

Reviewed by SneakyBawls from Denver on Wednesday, January 18, 2017

Great jacket. Is the perfect length between the short waist length and longer parka length. The usual Carhartt durability outer material that keeps you dry and warm. And the sherpa pile lining adds an even warmer layer to it. Honestly no matter how cold it is you can bet from my neck to my waist isn't a concern. I love the multiple pockets. It's a small thing but I like having options to stash things. The inner draw strings help to tighten it up nicely, and the double zipper makes sitting more comfortable. My only beef with the jacket, and it's not even big enough to take a star away, is the ribbed elastic on the inner cuffs. I have long ape arms and sleeves on jackets can sometimes be a bit short, and the elastic only reminds me of that. But I guess that's become standard with Carhartt now, so it's a small price. And as for price... this jacket runs anywhere from $140-$160 anywhere else. Easily. Son the price was beyond crazy cheap. Not to mention if you go to other websites like Amazon for example, you see people complain that they can sometimes get a Carhartt jacket made in China with poorer quality material and logos that don't even match. So there's zero reason to NOT buy from here. Plus the first jacket I purchased here was a style and size I didn't end up liking, and the refund process was super easy and faster than lightspeed. Sierra Trading Post has all my future purchases from now on.