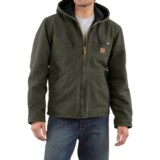 2nds. Legendary durability plus rugged good looks make Carhartt's Sandstone Sierra jacket a perennial favorite for work, chores and casual wear. Warm, soft sherpa pile lining takes this classic over the top when temps start to drop.
Average Rating based on
183
reviews
4.639344
0
5
Verified Buyer

Reviewed by Carhartt Shopper from Tennessee on Wednesday, December 27, 2017

Jacket works great for tall man.

Verified Buyer

Reviewed by Albert from San Francisco on Monday, December 11, 2017

Im 185, 6"1' and this jacket was way to big on me. The jacket proportions were completely off and is a manufacture defect. Chest and length was fine, but the sleeves were way to big and hung. So i returned it but the fun doesn't stop there. I was refunded $20 shy of my original order. On there return policy it only claims about the charges for the shipping, but yet some HIDDEN FEE surfaced. Beware Guys, Sierra Trading Post has the worst customer service and return policy.

Verified Buyer

Reviewed by brad from Colorado on Wednesday, December 6, 2017

This jacket is warm and a good style. The only thing that I had an issue with is the color I ordered the light tan one and I received the grayish greenish one. I do like this one but like I mentioned it isn't the color I ordered

Verified Buyer

Reviewed by DWM from Arkansas on Wednesday, December 6, 2017

6 ft x 5 in @280 lbs puts me in the "Not an easy fit!" category. This typically works out to 3XL-T sizing which few manufacturers bother to accomodate these days. I found that Carhartt isn't afraid to place themselves front and center in the big boy market, and i highly commend them for that.
I followed their sizing chart and placed my order. The coat arrived quickly and I was very pleased to find that it not onlyb fits me very comfortably, but it's actually quite roomy too. Most 3xlt products from their competitors barely fit, without much room to spare, and the sleeve length is often inadequate. But Carhartt isn't the least bit stingy with the materials or the measurements. I could probably go down to a 2xlt and still be quite comfortable.
This coat is supposed to be a factory-second, but i cannot find anything wrong with it, even after about 2 hours of very critical inspection.
If the zipper holds up, i'm going to be wearing this coat for a very long time.

Anyway... i think the sizing, the fitting, the style, the materials used, and the overall built quality that goes into this coat is quite remarkable to say the least. I wouldn't change a thing. And I think this reflects VERY WELL upon the management, who sets the standards, establishes the priorities, and directs what elements are the most essential, and practical, along with the feature sets, without compromise. Their high standards are quickly apparent in both quality of materials, and the manufacturing. These attributes are tell-tale signs which show that they are in this for the long haul, establishing and maintaining their own standards that set them so far ahead in the market that the competition simply cannot compete.
Well done Carhartt !!! I love this jacket.

Suggestion:
Always carry more inventory for *XL-Tall sized products.
Few companies offer XL-Tall sizes to begin with, which makes shopping far more difficult for Tall persons. (Nøt sø øbvious tø merchandisers)
This, of course, adds to the problem of keeping XL-Tall products on the shelf. It's not like these products aren't available to the market... they're just not available to the customer. In other words... tall shoppers buy everything they can get their hands on, and the shelf goes bare very quickly.
For the last forty years the pattern is always the same : "OUT OF STOCK"
What does that tell you?
This tells me that there is a strong market in these sizes, they sell quite well, and that a great many of tall people would buy a whole lot more products if they could find them on the shelf.
LL. BEAN is the worst when it comes to inventory. For example, for the last 20 years, without fail, they sell out of tall sweats BEFORE winter... long before Christmas. [...]? And it seems that Sierra Trading Post is following the same sales formula because they ran out of 3XLT sizes on all but perhaps two styles of jackets two weeks ago... and even before that it was slim pickings. Christmas is still three weeks away, and nada. Even when they still had inventory the colors selections were quite limited.
There is much that can be improved... especially in the first-quality retail selection... and this applies across the board in all products and categories.
You cannot sell what you will not supply.
Keep in mind that us tall folks have to buy our clothes somewhere, and that somewhere, to us, is limited to anywhere that stocks it. Might as well be you! Right?
May i ask, what is a merchandiser's prime objective? It is to sell products and make a profit!!! Right? All the other mickey-mouse issues that HR focuses upon are irrelevant if you fail to uphold your prime obective.
It is my opinion, that you need to get back to basics.
Just sayin'.

Anyway... Thank You Sierra Trading Post.
It was a pleasure doing business with you... and I Thank You for at least stocking some XL-T product. (More would be better.)

Merry Christmas to all.

Best regards,
DWM
12-7-2017

Verified Buyer

Reviewed by Freezing! from Wisconsin on Thursday, November 16, 2017

Ordered 2 different styles and this one is the best of the 2!

Verified Buyer

Reviewed by Griffy from Vermont on Wednesday, February 8, 2017

Fits well, comfortable, warm. Sleeves are long enough.

Verified Buyer

Reviewed by Lori R from South Dakota on Tuesday, January 10, 2017

My son is so happy that I ordered this coat for him. It fits perfectly and is so warm.

Verified Buyer

Reviewed by The Mack man from Pennsylvania on Tuesday, December 27, 2016

I'm thrilled with this jacket! Very well made and fit is right on. Rugged material

Verified Buyer

Reviewed by Yoli from Texas on Friday, December 23, 2016

I was unaware this product was an irregular. I'm deciding if I want to return it. I would have purchased this item from another seller if I had known this was an irregular. This is a gift.

Verified Buyer

Reviewed by Grandma Joan from Minnesota on Tuesday, December 13, 2016

Bought for my son that is an electrical lineman, he only wears Carhartt clothing for work. His last jacket he had for many years and although well worn he still likes it. It was also a Carhartt.