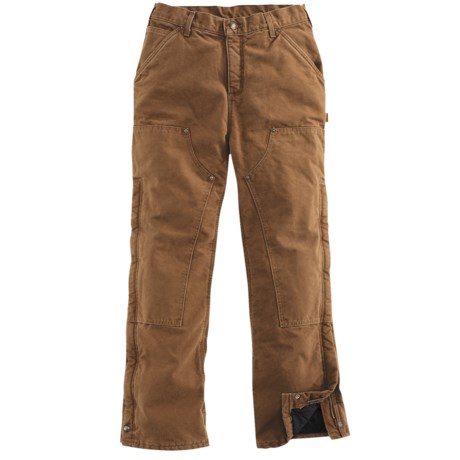 "Do Carhartt pants run small? I normally wear a size ten, but according to the size chart (waist measurement) here I should order a 14. I am a bit leery of having to return the item if it is too big. Any suggestions?"
According to Carhartt's Women's Size and Fit Chart a 10 fits a 29" waist and a14 fits a 32" waist.|The following link has more fit information from Carhart.|http://www.carhartt.com/webapp/wcs/stores/servlet/SizeChartView?catalogId=10101&storeId=10051&langId=-1&chartImage=Womens_Size_Chart.jpg

I've ordered carhartt jeans, shorts, and coveralls . They have all seemed to me to be true to size.

The sizing chart is way off for these pants. I am a size 12 (33 waist), and the sizing chart says I am size 16. Size 16 was way too large, and I had to reorder to get a size 12.

I wear a size 12, and bought these in a 12... they are true to size. they sit a bit high (right at my natural waist) and are roomy enough for other pants underneath them. I would buy your regular size.