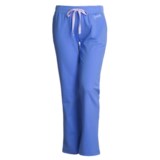 2nds, barely perceptible blemishes. Made of soft French terry cloth in a cozy 7 oz. blend of cotton and spandex, Carhartt's track pants are sure to emerge as your go-to choice for comfortable outings in town or relaxing endeavors at home.
Average Rating based on
127
reviews
4.283464
0
5
Verified Buyer

Reviewed by Hoyt from Lyles, Tn. on Sunday, May 18, 2014

I bought this pants& jacket set for my daughter and she really liked the color,material and fit
I got these items at a great price and $2.95 shipping. I saw no blemishes in the items and
it's made by Carhartt, try them.


Reviewed by Returning Oregonian from Los Angeles, CA on Saturday, April 12, 2014

Bought these in a Small-Regular, and didn't like them. The grape color was pretty, but the long, bell-bottom legs continually dragged on the floor (I'm 5'7, 125lbs) and the waistband was extremely thick, so I always needed the drawstring to keep them up. The cotton wasn't particularly soft, either. Ended up giving them away.

Reviewed by Joanie the Hiker from Colorado on Tuesday, January 21, 2014

I wear these pants around the house and they are probably the most comfortable thing I own. The size was a little bigger than I thought, but for my purposes it never really mattered. They have not shrank and the color is the same as when I purchased them even after many, many washings. I wish I had many more of these.

Reviewed by Cherylynn3 from Waco, TX on Friday, May 24, 2013

I own two pair of these Carhartt pants...this was a third purchase for my daughter. Great fit, especially for an oversized girl who wants neither cling nor baggy. Also appreciate a waist that comes up to my navel and doesn't dip low in the back when I bend over. Terry weave is warm without being overly hot...great weight for late fall thru early spring. Durable, colorfast, holds its shape, and the drawstring hasn't gotten lost yet! I'm 5'-9"...these are plenty long enough and don't draw up to high-waters after washing. I ordered Talls once before, and they are VERY long...at least 3" too long for me, and I was constantly stepping on the hem even wearing my thickest-soled shoes. Most average-length pants fit only up to 5'-7", these will work for even taller girls. Only slight negative I've noticed...I bought matching zip jackets, and they have a mild odor even after washing that's kind of like some wool sweaters. Not overt or unpleasant, but I did notice it on the matching jackets, not the pants.

Reviewed by Russian Beauty from Atlanta, GA on Friday, May 10, 2013

I wish I would sent them back, but it's not worth it. The cut is so strange, that it sticks out so much at the hips area. Black is not black, but washed out black, which gives them cheap, warned out look, and cheap white strings adding to it. Never again I'll buy "2nds".

Reviewed by Nursekathy from bend on Tuesday, April 30, 2013

these pants looked very nice, great fabric, good color but the size is very large.

Reviewed by Patti from Houston on Saturday, April 27, 2013

I'm a doula and assist women during their labor and birth -- these pants look good are stretchy so I can stoop and bend in them. Our uniform colors are white and purple -- so the purple pants are perfect. I wear a pair of these every day and have done so for over a year now -- they are washed every week with only slight fading. Since they are on sale I just invested in another 7 pairs.

Reviewed by kaaminii from colorado on Friday, April 26, 2013

They are cargartts, need I say more, mine are over a year old and look brand new, I wear them everywhere! Like running around town in your jammies!

Reviewed by mandy from Nebraska on Thursday, April 18, 2013

These pants are very comfortable the only reason I gave them a 4 was because I ordered a small and they fit more like a medium/large. Great quality and very warm.

Reviewed by monica from ct on Sunday, April 14, 2013

love the pockets. they are just a little long, but I'm 5"8" so thats no biggie. i ordered a small and they fir pretty good.