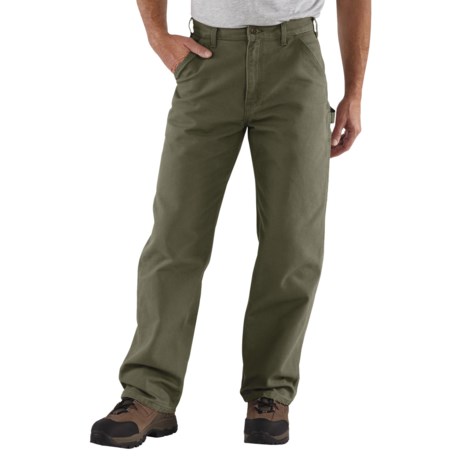 Mostly love them but......
Reviewed by Furniture maker from Pennsylvania on Wednesday, January 29, 2014
I've now purchased 4 pairs of these from Sierra. I love the canvas material and colors. The material takes a beating and looks better and better as it wears and fades. What I don't like is the fit. The legs on me (I'm not skinny) are really baggy and the opening at the bottom is really large so the back of the pants drag on the floor on one of the pairs. Some looseness of fit is great for moving bending working but these fit like tents compared to my similar pair of Dickies. I've ordered the same size each time and all 4 pairs fit slightly different: each a little different at the waist, the length, and the bagginess of the legs and opening at the bottom. One pair is close to perfect. They are seconds but on 3 pairs it's virtually impossible to find anything. My most recent pair had an odd 'bar tack' right in the middle of the front of the pant securing nothing. Don't know if it's a repair to a small hole or the seamstress just spaced out. This last pair is the largest fit of the 4. Have to roll up the bottom to keep from dragging on the floor even with logger boots with 2" heels. Will probably take them to get them shortened. Been buying them because of the great deals I've been getting but I may switch to Dickies in the future because of the fit.