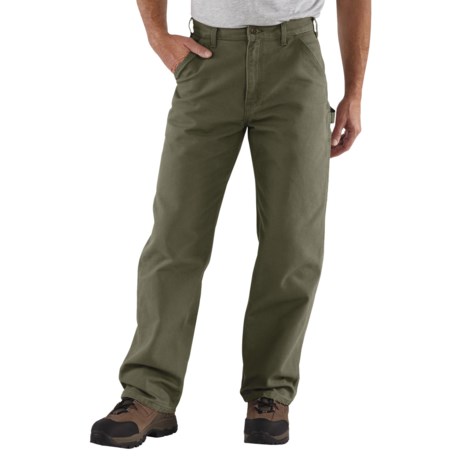 Substantial feel, and not just for work sites, and a smart look!
Reviewed by JMFlanker from Wild Brooklyn on Monday, February 29, 2016
These pants will make your life considerably easier. I bought three pairs of various Carhartt work pants (this review is for the washed duck work pants) because I need something that can withstand my active young boys and still look decent after I drop them off and get to the office. These washed duck pants fit the bill very well. Unlike my buttery-soft khakis that collect (and advertise!) stains, these hard-wearing pants hide stains and don't blow out their knees.

The duck fabric is substantial without feeling like cardboard. The washing definitely softens things up and they feel great. The color is rich and makes the pants perfectly adequate if you work in a workplace-casual environment. By contrast, my khakis were getting holed and stained to the point where just this weekend I had to "retire" three pairs far too prematurely.

It turns out there is life beyond khakis! I'm glad I bought these.