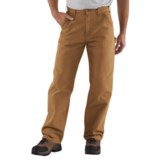 2nds. Sporting a dungaree fit, Carhartt's washed-duck tool pants are constructed with durable plied yarns and garment washed for softness. They have a hammer loop and and a handy tool pocket on both legs that keep your most used tools close at hand.
Average Rating based on
1699
reviews
4.477928
0
5
Verified Buyer

Reviewed by Rebecca from Annapolis, MD on Tuesday, November 21, 2017

Great product, needed to order one waist size larger.

Verified Buyer

Reviewed by Woodworker from Michigan on Tuesday, November 21, 2017

I ordered three pair! They Arrived quickly and fit great! I was glad they offered several size options!

Verified Buyer

Reviewed by Danny Rough-in-it! from California on Friday, November 17, 2017

Honestly. I feel dumb for not having known about Sierra Trading Post sooner. I had been paying full price for Carhartt Workwear.
I recently ran into this site, offering factory 2nds for such a great deal I took the chance on some simple pants. I oredered two pairs. The dark brown and black ones.
These are not the double front pants which are so popular, but they still look and feel great, and not to mention they are still Carhartt. Which means Quality.
I still can't find the factory defect on the black pair. They look perfect. The dark brown pair has a small spec of light colored fabric, low on the pant leg where the dark brown dye did not take. But it is such a small spec, it is not noticeable at all.
I will continue to buy factory 2nds from Sierra Trading Post. In fact I have been Christmas shopping on here since. I ordered a few of those famous Carhartt jackets, we'll see how they look later today!

Verified Buyer

Reviewed by FuegoCat from Niwot on Friday, November 17, 2017

These are fantastic work pants. Thick fabric the holds up. Good fit too.

Verified Buyer

Reviewed by Tim from Rapid City, MI on Wednesday, November 15, 2017

I bought two pairs of these pants in two different colors, same size. One waist was quite tight, the other just tighter than perfect. I would recommend buying this model of Carhartts in a waist size one higher than you'd normally go. Otherwise, these pants are great and will get a lot of wear this year.

Verified Buyer

Reviewed by TMT from Southern USA Mountains on Tuesday, November 14, 2017

Carhartt pants finally arrived so I examined it to see if i could find and irregularities. After examination I could not find any visible irregularities. I tried on some Carhartt pants in the stores to determine the size I needed before ordering and the pants from Sierra Trading fit the same as they did in the store. I have examined and tried on some other pants in stores but the Carhartt quality excels beyond the others. I hope Carhartt does not follow some manufacturers who are decreasing the quality of their goods to increase sales and profits, which in my opinion will eventually come back to haunt them as sales decrease from customers experiencing shorter life cycles of their clothing. To me, quality never goes out of style and neither will Sierra Trading if it continues to offer quality goods at discount prices.

Verified Buyer

Reviewed by SE TN outdoorsman from Tennessee on Tuesday, November 14, 2017

I'm used to the classic rigid Carhartt pants that take a while to break in, but hold up for ages.
The term "washed" apparently indicates these aren't the classic pants. They're much softer but still appear to be just as well-made with the triple stitching on the seams.
My favorite aspect: the pocket on the right leg is the perfect size for my iPhone 6.

Verified Buyer

Reviewed by Joshie from Washington on Monday, November 13, 2017

Product just as stated! Good job!

Verified Buyer

Reviewed by Johnboy85 from South Carolina on Thursday, November 9, 2017

Great pant but lose the hammer loop.

Verified Buyer

Reviewed by Oscar from Chicago on Wednesday, November 8, 2017

Great quality but the sizing is off. Order a waist size bigger.