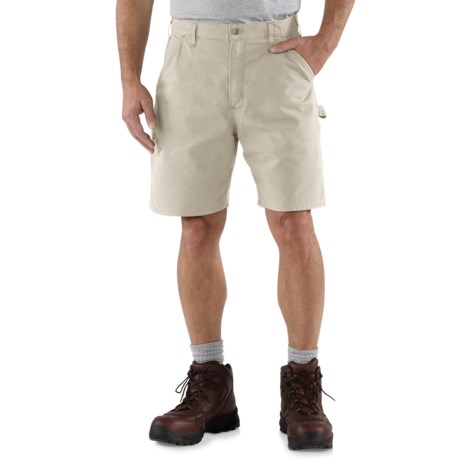 These have just a regular zipper fly. There are not any pockets near the waist, just regular front hand pockets. There are not any pockets that have any sort of closure. The shorts weigh 7.5 oz. They may shrink slightly on high heat. They are cotton so they may have some wrinkles, but not enough in my opinion to need ironing.

-brass metal zipper.|-like jeans, slashed inside pockets on front, coin pocket on r side.|-pockets are open, no fasteners.|-30 waist weighs 12 oz.|-after cold washings, low tumble dryings, no shrinkage has occurred.|-yes there is a hammer loop.|-straight out of dryer they're fine without iron, but if you want a crisp look you'll still need to iron.

Hello NN: I just got a pair of these. They are in the laundry pile now for their first washing, so I can't tell you anything about their behavior after several washings. The pockets are ample but none has any kind of closing device (i.e. buttons, snaps, velcro). (There are no inside pockets but two exterior back pockets.) There are two front, slash pockets, and a watch pocket on the right front, at the waist, above the slash pocket There is a hammer loop on left leg. There is also a folding ruler pocket on each leg, that works for a cell phone as well. The weight is medium. They are comfortable in the heat. Fabric is durable for some rough outside work. Zipper is heavy duty brass, although it seems a little short. I am happy with these shorts. I hope this helps.

YKK brass zipper. By inside pocket, do you mean hidden? No hidden pockets. The two rear and left lower are "patch" pockets. They are externally sewn on. The two front pockets, coin pocket, and right lower pocket are pockets like you'd find on any 'ol pair of jeans. That is, there is a white cotton pocket inside the material. None of the pockets have a security closure device. I've washed them once and no shrinkage so far. One hammer loop on the left leg. ...I don't buy things that require ironing. ...I may wear things a little wrinkled, but not overly so.

YKK Zipper, Small side pockets for a knife or rule, No fasteners/snaps for pockets. Medium weight great for summer. Washed 5 or 6 times with no shrinkage. There is a hammer loop ,but it was on the left hand side. They do not wrinkle that bad, I wear them for handyman work so I do not need them to have a pressed look.