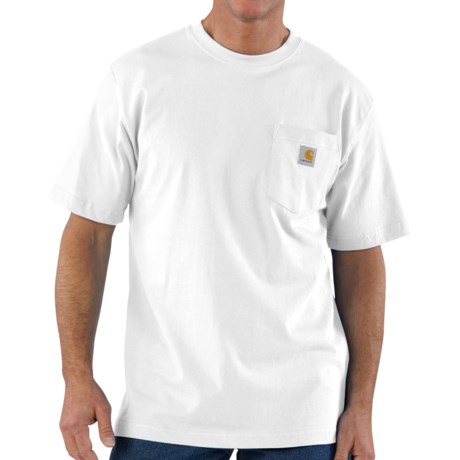 "How long are the XL and 2XL shirts? Does the length shrink much after washing and drying as per the instructions?"
They are long enough to stay tucked in snd do not shrink ehen washing and drying. I wash and dry mine on hot.

I'm 6'5" and 265 lbs and the XL tall fit fine. They're loose fit. If you want Marlon Brando fit, go with L Tall. They DO NOT shrink! No matter how hot the water or dryer, they don't shrink! Should have bought more. They beat the hell outa JC Penney's pocket Ts.

Thank you for your replies. Going to order for my husband and son now!

They are fairly long....no plumber butt if you get the right size. I have never seen any shrinkage and very minimal fading in any of my Carhart Work T Shirts.

I'm 6'0 and 220lbs and the XL fits me perfectly. I didn't notice any shrinkage after washing them and I own several.

The XL's are pretty long and baggy. I usually take an XL but returned these for a large that fit much better. No shrinking on any of the Carhartt T-shirts I've washed.

SPEAKING ABOUT SIZE~~~ LARGE ~~~ FOR REFERENCE ONLY:

I just measured a blue and a green tee. After weekly washings since early summer 2014 - warm wash/cold rinse, hot dryer - LAID FLAT to measure- the size LARGE measures: 30" center back length and 24" armpit to armpit.

Speaking to the size LARGE, it is a generous fit and EXCELLENT color retention, VERY MINIMAL shrinkage, and BEEFY QUALITY of the fabric.

From our experience, I would not order up in size to accommodate date shrinkage.

The return/exchange policy is FAB if you need it!

Carhartt's XL T-shirts fit like a 2XL in most other brands. I've got 23 of them and I've noticed no noticeable shrinkage. I promise you I would need a 2XL in anyone elses shirt. If you prefer a longer shirt tail they also come in a tall version.

I think they are plenty long and stay tucked. I am 6'1", 250# and I wear an XL in this shirt. I normally wear a 2xl in any other brand. They are definitely a size big.

The 2XLs I bought are wrapped up for Christmas for our son. Tthe 3XL's I got for my husband are 32" from neck to bottom and have not shrunk using warm wash and cold rinse, then putting in a dryer that has a moisture sensor. My husband loves them because of the sturdy pocket. Now that he is retired it is his "official" uniform.

My husband likes a long shirt as well, sometimes, when available we will buy a carhartt short sleeve button down tall for the length. I've never seen tall as an option on the tshirts. They wash and wear well, especially considering the price at Sierra Trading Post. They are marked irregular. Only one time in all the years I've bought his Carhartt tshirts from STP did irregular mean there was a defect I had noticed, it was a small hole they had repaired by stitching together. We use them mostly for working on a ranch or chores as such, he does tend to use the charcoal, dark brown, and black tshirts as dress up with shorts. They all wash and wear well. I hope that kinda answered ur question. I've never measured them when they come in and then wash and measure again. So I'm not sure how to answer length. My husband is 6' 3" and about 280lbs...he requires clothes to cover him in length...

I wear the L and XL pocket T's. No problem with length. I am 5' 10" stocky build. Never a problem with shrinkage either. They will fade a little after several washings. I use them for casual for a few washings then on to work wear till I wear them out. Very well pleased over the years.