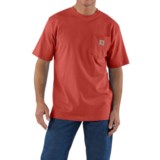 2nds. Carhartt's Work Wear T-shirt is heavier and longer-lasting than your average T-shirt, thanks to substantial 6.75 oz. cotton fabric.
Average Rating based on
942
reviews
4.487261
0
5
Verified Buyer

Reviewed by jagman from Los Angeles on Tuesday, March 8, 2016

Well-built shirt. Cut longer than average so works great for activities where you are bending.

Verified Buyer

Reviewed by Jill from Michigan on Tuesday, February 16, 2016

Nice fabric and perfect weight for a base layer

Verified Buyer

Reviewed by Dr. Wuzzlefrumps, MD from Behind You on Sunday, February 14, 2016

This is a big beefy meaty beast of a t-shirt. It will probably chafe you for the first week until you develop the necessary calluses all over your torso. It's like wearing a stylish, yet no-nonsense burlap sack. This shirt is basically armor; I think it would probably stop a low caliber bullet, or at least an inaccurate glancing slice of a crack-head's prison shank. Just a theory, not yet tested. Let me know.
Also as noted by others, it runs large. I am 5'10", 160lbs, and the Medium is ruggedly roomy. I would try a Small next time for a more classic t-shirt fit.

Verified Buyer

Reviewed by BargainMAN from Colorado Springs on Sunday, February 14, 2016

This shirt is an attractive option to the standard solid trill safety wear.

Verified Buyer

Reviewed by RD from By the beach on Monday, February 1, 2016

You just can't beat Carhart. Originally used by farmers, ranchers and working folks they have developed a cult following. I wear Carhart for everyday casual use and when they get tattered, takes a long time, they go into the work closet. The most comfortable clothing I have. Some of my Carharts are 20 years old.

Verified Buyer

Reviewed by Lasvegasteve from Prescott, Az. on Thursday, January 21, 2016

Great heavy tee but...this medium fits as most large tees would and that's OK but they are way long for me. Like halfway to my knees. Definitely better for tall guys.

Verified Buyer

Reviewed by fender553 from lexington sc on Monday, January 18, 2016

Great tee shirts. go down one size than normal to get your right size.last twice as long as others

Verified Buyer

Reviewed by DJB from Maine on Monday, January 11, 2016

Purchased mainly because of the pocket. It is hard to find t-shirts with pockets today. The quality is excellent. These shirts run a size larger than most brands.

Verified Buyer

Reviewed by EJ from MA on Wednesday, January 6, 2016

The review may be too soon as the shirts haven't gone through the wash yet, but based on past performance..... the Carhartt stuff is always good.

Verified Buyer

Reviewed by Jeddar from Western Massachusetts on Wednesday, January 6, 2016

Nice, heavy, comfortable fit. Sizes run a bit big with most Carhartt shirts I have found. If you do your own laundry like I do and you like to fold your t-shirts, you will love these. Right out of the dryer, they are pretty much wrinkle free. They are made with two sheets of fabric sewn together up the sides, rather than other t-shirts that are like seamless. When you fold these, just grab the two seams on each side and fold. Even though these are sold as irregulars, I have been more than satisfied with the quality over paying the price for non-irregular. Buy em and wear em.