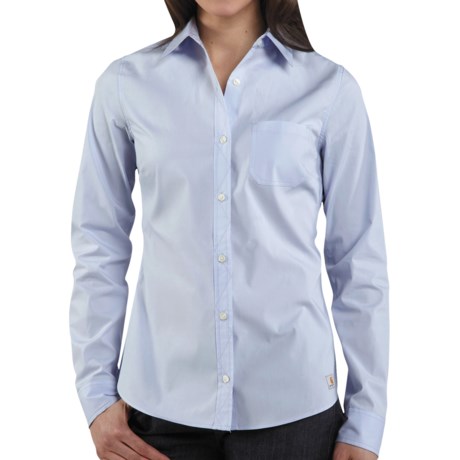 I rtnd this one. I kept the carhartt snap down, better fit. I believe it was machine wash, tumble dry like the one I kept.

Wash cold, dry low, & it probably won't shrink...I washed this shirt on warm & dried it on permanent press/medium, & it shrank a bit. It definitely needs ironing if you want it to look like it does in the photo. Otherwise, it's strictly artsy/wrinkly.
Unless you don't mind ironing shirts or sending them out to have them done when you travel - I wouldn't recommend it for travel.

This blouse probably would not be a good candidate for wrinkle free packing. It is cotton, it wrinkles enough to require serious ironing.

Even though it is advertised as somewhat wash and wear, it comes out of the dryer very wrinkled ad a bit stiff. As a result, I would NOT think it a good travel choice.