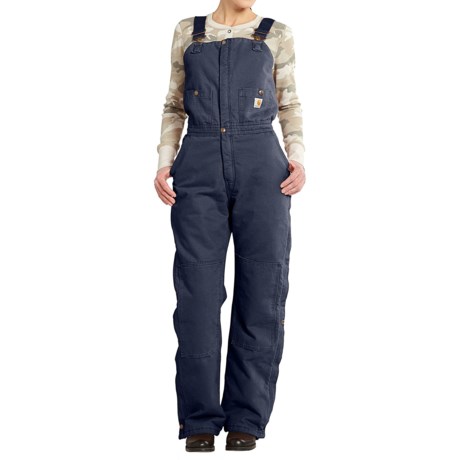 you will definitely want a small. I am 5'4" and about 135. I got the short medium and the are very loose - easy to wear over other pants or jeans. I LOVE them when I am working outside in the cold though! I have another pair of Carhartt waterproof pants that are a size small and STILL fit over other pants. These are definitely made large enough to wear over other clothing. I probably could have gotten a small short in these bibs if it was available, but the medium is fine.

I am 5'6" and weigh 140 , I wear a size small and inseam "short",don't know if that's a 30" or not but get the shortest you can get! you cannot hem them, these do run big but are the best cold weather garment you can wear

Small would probably work for you. We do have small in the short inseam. According to the product specs above: Inseam: Short 30", Regular 31", Long 32"

My normal size is a 12-14 which coincides with a size large in most cases, but my inseam is around 33" , so often average lengths are a bit short. I bought these overalls in a size LARGE, tall length. They fit well and have more than enough length. I'm not sure I would order a smaller size than your normal size. The material is heavy and durable, and might be a bit constrictive if tight. I think you will want a bit of room in this type of pant to allow for freedom of movement. Also, I often slip mine on over jeans or sweat pants, and a little extra room helps with that too.