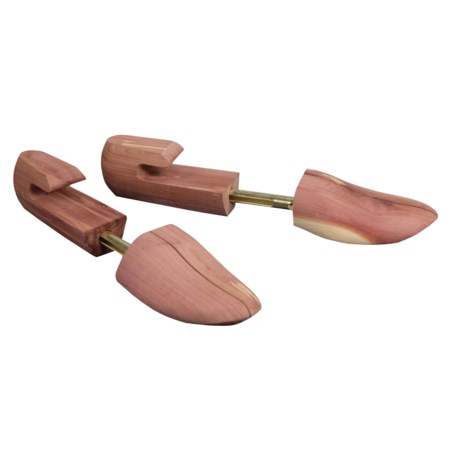 I purchased 6 pair of xxl mens size. They were perfect. I did not detect any problems.

Hello Carl, In my experience "2nds" have always been defined as a new item that may have a minor flaw. In the case of the Shoe Tree you are interested in the "2nds" aspect doesn't appear to be note worthy. The product arrived beautifully packaged and in pristine condition. Cedarbrooke has made a fine quality item that I can highly recommend. In my opinion these items were more than likely overstocked and not really "2nds". Good luck finding a better shoe tree.

these shoe trees are brand new, smell nice, I bought a dozen of them and am very pleased with the product and the price

They are definitely brand new. We've purchased 8 or10 sets of them for my husband's good shoes. Each pr of these shoe trees arrives individually boxed with no signs that the boxes were ever opened. The shoes trees we've received from STP have certainly never been used. I don't know what makes them 2nds. They work correctly and protect his shoes from the damage that leather suffers without the cedar absorbing the moisture as it stretches the leather back into place. No problems using them.

The shoe trees which I received were new. If they were seconds, I did not notice a flaw. They worked as intended and had a strong cedar odor implying that they had not aged significantly since machining.

These are brand new shoe trees. Seconds means there is a defect that prevents the manufacturer from selling as pristine condition. I must admit I saw absolutely nothing I would consider as a defect on the shoe trees I purchased. I intend to buy more.

the ones i received were brand new
'2nds' are pieces that have (typically minor) imperfections, but i can't find anything wrong with the ones i got.

Carl:
They are brand new. When an item is listed as a 2nd it means it did not meet the manufacturer's highest quality standards. In many cases it was rejected for a minor flaw, often an imperceptible one. The manufacturer will sell its seconds outside its normal distribution channels. If the manufacturer leaves its brand on its 2nds it will insist the retailers sell them as 2nds. Also, if the brand is left on it is usually, though not always by any means, a pretty good indication that any flaw is a minor one.

! have 25 or so pairs of these shoe trees I ordered from STP. I am well satisfied with them and have no complaints whatsoever. I have yet to find the flaws that caused them to be sold as 2nds. Whatever they are they have not interfered with their functions.

These shoe trees came packaged as brand new. There was no indication that they had even been opened from their original packaging. They are labeled as "2nds" probably from a quality assurance standpoint, but I haven't been able to detect any defects, either visually or functionally.