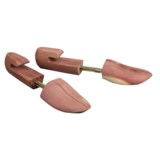 2nds. Throw open your closet door and breathe in the fragrant, forest-fresh scent of cedar. Cedarbrooke shoe trees by Woodlore naturally protect against moths and can be aromatically rejuvenated with light sanding.
Average Rating based on
304
reviews
4.690789
0
5
Verified Buyer

Reviewed by Southern Boy from Deep South on Thursday, October 2, 2014

Well made, easily adjustable, easy to use trees. Cedar smells great.

Reviewed by [...] John from Colorado on Monday, September 8, 2014

These are marked as seconds and sold at a good discount, but they look and work great. If you want to make your shoes last, use good shoe trees. These are not as fancy as some, but do the job just as well at less than half the price. I have these ceder shoe trees in all my shoes and will by more.

Verified Buyer

Reviewed by Nate-the-Great from Maine on Monday, September 1, 2014

This product is a "second", but you would never know it by looking at it. These work as good as any other shoe tree I've purchased and smell even better. For the price, they can't be beat. I bought size "M" for my 9 & 9.5 size shoes and they seem to fit just fine. I highly recommend.

Reviewed by Too Many Shoes from Little Rock, AR on Thursday, August 14, 2014

Over time I have purchased about 25 pairs of these cedar shoe trees from STP. They may be 2nds but I have absolutely no complaints. I have never had to return a pair and If they have any flaws they are superficial but I haven't noticed any. They are solidly constructed and have more cedar mass than many other quality shoe trees.

Depending on the brand and style my shoes run between a 10 1/2 to 11 1/2 D (med). The large size shoe tree fits my needs perfectly. The price is fair and competitive but when STP has a % off offer you will not beat the price anywhere. Excellent buy.

Verified Buyer

Reviewed by Ryan from IL on Wednesday, August 13, 2014

Not much to say. They're well made and fit my shoes great.

Verified Buyer

Reviewed by sportscoatman from Redding, CA on Sunday, August 10, 2014

My husband was very impressed with the construction and user friendly aspects of these great shoe trees. I believe these beauties will out live the both of us. By the way, if you happen to have smelly feet (which we don't) and the cedar smell diminishes, one could lightly sand the wood to re-vamp the wonderful cedar fragrance.

Verified Buyer

Reviewed by EOregonGal from Almost in Idaho on Sunday, August 10, 2014

I was hesitant to order these for my husband's good shoes after reading some of the negative reviews. We were happy to receive 4 pairs, SZ L for shoe size 9, all in perfect condition. They appear to be the very same shoe trees he has bought in the past from Amazon, where they cost 50% more than our deal-flyer price. The only difference is no brand sticker on the handles and more money left for other purposes!

Verified Buyer

Reviewed by Jack from Michigan from Michigan on Sunday, July 6, 2014

These are not the fanciest shoe trees, but they are totally functional. Considering the price they are a great bargain.

Verified Buyer

Reviewed by anonymous coward from la area on Sunday, June 22, 2014

these are cedar shoe trees without obvious defects. to prolong the life of your shoes you must use shoe trees.

Verified Buyer

Reviewed by Dave from MidWest on Friday, June 20, 2014

These seem to be well made and to do what they're supposed to do. Great value.

Verified Buyer

Reviewed by Brock from VA on Thursday, June 12, 2014

Shoe trees are an essential part of wardrobe maintenance these were a good deal compared to prices I've paid before.

Verified Buyer

Reviewed by Somebodynoz from California on Sunday, June 1, 2014

The photo looks a bit nicer than they are at home. But really they are just pieces of wood finished with the good quality spring to fit.
Note they fit low volume shoes best. Even the 2xl largest size does not fill out any larger shoes or boots. Resulting in some sagging on the leather tops of the shoes.

Reviewed by JH from Michigan on Sunday, June 1, 2014

These are great shoe trees and I could not find why these are seconds compared to the full priced Woodlore shoe trees. The only difference between these and the full price Woodlore shoe trees is that the Woodlore name is not on the box or on the shoe tree. Otherwise the box is the smae as the full priced version.

Mine did have some rougher patches on the bottom part of toe area, but the full priced ones I bought have the same thing as well there.

I do find though that for my 12C White's boot that these are little too wide to fit all the way.

Verified Buyer

Reviewed by Keith from Hawaii on Saturday, May 31, 2014

So far I have bought nine of these, it does what it is supposed to do. They are well made and should make my shoes last longer.

Verified Buyer

Reviewed by Supershopper50 from New England on Wednesday, May 21, 2014

this is a less expensive type of construction but works. Deodorizes and keeps the shoes' shape very well. Concerned that they may not last as long as the oem model that has a solid front foot as opposed to these with the split front foot.

Verified Buyer

Reviewed by Jamie the walker from Colorado on Monday, May 19, 2014

Superb quality at a great price. I bought the medium for a 9.5 shoe and it fit perfectly.


Verified Buyer

Reviewed by Andrew from Indiana on Thursday, April 17, 2014

Woodlore makes great shoe trees and do it right here in the US! Don't hesitate to get a pair to keep your shoes in good health.

Reviewed by italianstallion from California on Tuesday, April 1, 2014

Great deal on sale.

Reviewed by alden from MD on Wednesday, March 26, 2014

The Cedarbrooke combo shoe trees are Great shoe trees @ a great price but remember these are seconds so they are not perfect. some of the 20 pairs that I have purchased from sierra trading are a little rough around the edges but it's nothing a little sand paper can't fix.

Reviewed by Alan Allen from Salt Lake on Monday, March 24, 2014

The construction of the shoe trees is solid. Fits very well in my size 9 shoes. Only issue is that it's not super easy to remove from shoes. I own another pair that has a fabric loop embedded in the end of the heel, which makes it easier to remove from shoes than these.

Reviewed by yacomaria from Colorado on Friday, March 14, 2014

Perfectly priced shoe trees. Best price anywhere. I bought 10 and I'm going to order another 6.

Reviewed by Bob of NY from New York on Thursday, February 27, 2014

except for a few splinters, these shoe trees are great! especially when 40% off coupons are available.

Reviewed by cochraaa from North Carolina on Tuesday, February 25, 2014

These are the greatest shoe trees I have ever owned. I purchased a pair to stop the horrible smell in my gym shoes. I had issues with fungal growth under the insoles. I believe cedar and other coniferous trees have anti-fungal properties which make these shoe trees the perfect remedy. Now, my gym shoes smell like cedar every day when I put them on. These would also be excellent for a pair of leather dress shoes.

Reviewed by OCULUS from Rensselaer, NY on Monday, February 24, 2014

Don't know where the "second" blem or flaw is, but they work fine; you can never have enough shoe trees. They are critical to shoe longevity.

Reviewed by tjm from wisconsin on Saturday, February 22, 2014

This shoe tree fits the bill but the funny hook on the end
pummel makes it a little difficult to pull it out of the shoe.

Reviewed by Anonymous from No Cal on Sunday, February 16, 2014

Very nice quality shoe trees w/o any sign of being a second.
The cedar absorbs the moisture from the leather and maintains the shape of your shoe. A wise investment if you want your shoes to last.

Reviewed by Almaty Diver from Virginia on Friday, February 7, 2014

They appear to be very good quality, but seem to run big. I ordered the size small for my husband, and barely got them into his size 7 shoes -- with great difficulty.

Reviewed by Mattface from Vermont on Saturday, January 18, 2014

these are just the thing for maintaining high quality shoes, and the price is great

Reviewed by Red Chile from New Mexico on Friday, January 17, 2014

Admittedly, it'd been several years since I'd stocked up on shoe trees. I was a bit shocked when I saw how much more expensive they'd become over the years. After searching, I learned that Woodlore is an Allen Edmonds company and these are some of the best available shoe trees on the market. These are 2nds, so there may be a rough corner somewhere, but you're not going to find a better deal for this quality of shoe tree. They're highly recommended!

Reviewed by Thorsten from Iowa on Sunday, January 12, 2014

I like the fact that the forefoot is split. That directs the tension of the spring to the sides and not only the tip of the shoe which stretches the leather out more evenly - in particular when you have wider feet = shoes.