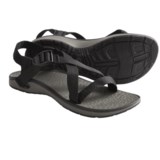 Closeouts. A flexible midsole, easily adjustable straps and a sticky NearGround outsole make Chaco's Chari sandals the perfect choice for hiking, walking the dog, fishing and everything else you enjoy during a beautiful day outdoors.
Average Rating based on
47
reviews
4.297872
0
5
Verified Buyer

Reviewed by Happy Feet ! from Illinois on Wednesday, August 27, 2014

I bought these sandals for a friend of mine who has "bad" feet and can't wear flip flops. She has resigned herself to "boring hot tennis shoes" all summer. When she tried these on and wore them around she was thrilled! Not only did her feet feel better, they are a very cute style! She went and got her nails done and wears them all the time! Great purchase!

Verified Buyer

Reviewed by Ann the Busy Grandma from Eugene Oregon on Friday, July 18, 2014

Chaco Chari sandals are lightweight & comfortable.
Very easy to put on & take off. I'd definitely buy
another pair. True to size.

Verified Buyer

Reviewed by Mommy of 2 boys from Knoxville on Monday, July 14, 2014

I have 2 little boys that keep me on the move, I also work as a full time hairdresser. These shoes not only allow me to go nonstop with my boys but work a full 12 hour day and not have any pain in my feet. These shoes are eaisly adjustable and fit great. I will definitely be buying more Chacos!

Verified Buyer

Reviewed by Molly from Wisconsin on Monday, June 30, 2014

I got these Chacos right before a trip out west and love them. They were great for hiking, and were super comfortable. I didn't like my old ones because of the toe straps, so these are perfect.

Verified Buyer

Reviewed by 2booney from Auburn,CA on Thursday, June 26, 2014

I have a pair of leather Teva's that I still wear that have taken me across Turkey and Greece. But the time has come to get another pair of all around hard wearing comfy sandals that last forever. The Chaco's fit the bill. I took them out and wore them for the next two days. They are now my 'go to' sandal.

Verified Buyer

Reviewed by Greengables from Bucks County, PA on Thursday, June 26, 2014

These are the perfect casual sandals! The footbed is supportive, flexible and has an arch so it's not completely flat. If you need high arch support these may still be a little too flat for you. While the footbed, at first, doesn't feel 'soft' I would say they have a comfort similar to Dansko clogs - which I like. But the best part about Chaco Charis is their fully adjustable strap system! It took about 15 mins to get them just right for my feet. I've walked around town all day with no hot spots or blisters. I used them this weekend after long days hiking the Catskills and my feet appreciated the firm support and non binding fit. Perfect!

Verified Buyer

Reviewed by not happy mom from mississippi on Wednesday, June 25, 2014

these shoes were not comfortable at all. I could not wait to get them off and that was just from trying them on

Verified Buyer

Reviewed by Urban Turban from Chicago on Wednesday, June 18, 2014

These were cute in the pink\red. Seemed like they might be good by the water or beach because they're sturdy rubber and would dry easily, but I realized wanted a pair that I could walk a mile or two on pavement and still feel comfortable. There was zero cushion in these, so I sent them back.

Reviewed by Etana from Metro DC on Sunday, June 15, 2014

NOTE: my feet are fairly wide, and the medium fit fine. Some say these are narrow. I would say the medium is regular width, not too narrow or wide

SIZE: I wear a 9-1/2 sandal, bought the 9 which fit perfectly. I had bought the Updraft X2 Genweb in 10 and they're a bit too big, so I bought the Chari and Updraft Genweb in 9 and the fit is perfect

PROS
a. straps: I loved the straps best of the 3 Chacos I bought. The front straps feel secure, whereas with the Updraft Genweb I feel my toes are too free and I could stumble. So I wanted these to be the best.
b. color: I also loved the grey/green colors, not too bright, and
c. arch: the arch was great. I have flat feet, low arch, and I can wear these instead of my shoes with expensive orthotics. So I am so happy to be free of orthotics in sandals I can walk all day in.
d. lighter weight than the Updraft X2 Genweb, or Updraft Genweb

CONS:
a. sole: the reason I returned this Chari model is that I felt the sole was too thin. I really wanted to keep this model and not the Updraft since these were a bit lighter weight and more secure. But when I walked around my apartment I felt not enough distance between my feet and the floor. I need a lot of support, am older and have flat feet issues. So these might be great for you.

Verified Buyer

Reviewed by Aubs from Indiana on Friday, June 13, 2014

I have never owned a pair of Chaco sandals before, but am very excited about them! I love how the straps are adjustable and the arch is amazing (I never even knew that I needed such a supportive arch!). They make me not want to wear other shoes/sandals/filp-flops! In fact, I just ordered a pair of Chaco flip-flops too...hopefully they are just as comfortable! In regards to size, I ordered an 8 and usually wear a size 7.5-8. Hike on!