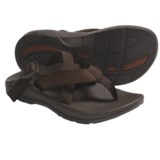 Closeouts. The classic flip-flop gets a strappy update -- Chaco's Hipthong EcoTread Two sandals feature two extra criss-crossing straps with an adjustable buckle.
Average Rating based on
50
reviews
4.160000
0
5
Verified Buyer

Reviewed by Lee from Upstate NY on Wednesday, June 24, 2015

Though they are nice, the new version has slightly elastic middle straps.... I liked the non-elastic strap better.

Verified Buyer

Reviewed by Sandy from Canada on Thursday, June 18, 2015

Had a pair of the original Hipthongs and loved them; tough, comfortable, waterproof...perfect!

Verified Buyer

Reviewed by Tubbe Hendersen from Maine on Thursday, June 4, 2015

They fit like a glove without the typical "flip-flop" sound while walking. Comfort is excellent and they have moderate arch support. Additionally they can be resoled, they are a 10 year sandal.

Verified Buyer

Reviewed by DC from Chicago on Thursday, May 28, 2015

I have many of the styles offered by chaco, but have always wanted to get these and finally did when the price/coupon was right. I really wanted to like them, but in the end ended up returning them.

The foot bed on these are a more firm, the sole a bit thicker, the arch a bit higher, and offer great support. They were very comfortable out of the box. The problem came when walking around in them. The major issue I had was with the additional straps. They are made of an elastic material, not the fabric strap standard on all the other sandals. When walking, the elasticity of these straps felt very odd--as if I was overextending the elasticity on the straps. Subsequently, as you step through your walk, the "flop" on these were very exaggerated as the elasticity snapped back--the weight of the flip flop added to this. Tightening the straps only exasperated this issue and I found my feet actually sliding back out of the shoe--and I like my flip flops tights towards the front against my big toe. I do not think I could walk comfortably for an extended period with these on.

In the end, I bought these for the look of the additional straps. Functionally they did not add anything and actually took away when compared to the original flip flops without the elastic straps. I highly recommend the regular flip flops (best I've ever owned), but would take a pass on these.



Verified Buyer

Reviewed by COHiker from Western Colorado on Monday, April 27, 2015

I now have five pairs of these sandals and am extremely happy withe the quality and fit.

Verified Buyer

Reviewed by Tom Rigsby from Charleston, SC on Monday, June 9, 2014

I bought the Hiptong sandals based on my perfect satisfaction with the Chaco Z/2 Unaweeps. Although the Hiptongs share a similar footbed they are slightly smaller. How does a shoe company let this happen? I also don't like the elastic instep strap and would prefer they were made from the same strap material used in the other straps. I didn't return them because they were bought at a great price and fit OK. Can now understand why these are closeout items.

Verified Buyer

Reviewed by Alan from Upstate NY on Friday, June 6, 2014

The only thing that could be better about these, is if they came in a wide.
I've got 3 pair of Z1 sandals, and have been watching for a good buy on
these for quite some time.

Reviewed by S in Ca from California on Wednesday, May 21, 2014

I have a pair of Chaco Z2s with Vibram soles in a M9 and these were about 1/2" shorter. My foot was at the edge of the sole. Nice materials (as most Chacos are). The dark blue pattern was nice. Just too small. May need to stick with Tevas. The women's Chacos are too narrow. The toe strap and overly textured foot bed on the Z2s are a bummer (get that toe part right at first, later adjustments are a nightmare). And these run small. I want a pair of Chacos but they just don't agree with my feet.

Verified Buyer

Reviewed by Mountain Mama from WNC on Wednesday, May 21, 2014

I wear these continuously during warm weather & happily recommend them to all my friends. Chaco, don't change a thing about them, this is the perfect thong!

Verified Buyer

Reviewed by Billy B from Minnesota on Sunday, May 4, 2014

As always Chaco sandle provide great quality and fit. I own a few other Chacos and cannot wear them out. The hpthongs are great in that they provide a good footbed and unlike my Chaco flipflops this sandle provides much better stability and secure foot placement for hiking and all day wear.