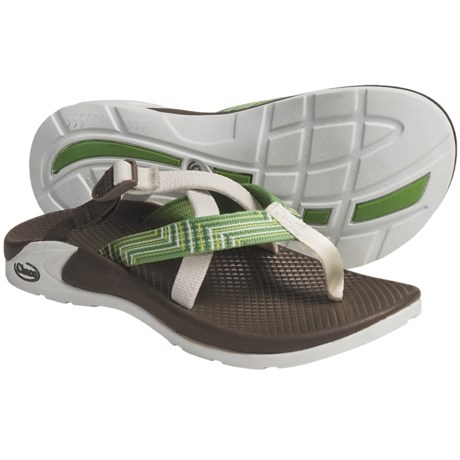 These sandals have the same foot bed as their typical sandals with good arch support. I have high arches and they do fine. I'm able to walk comfortably all day without issues. They also stay firmly on feet if cinched up properly.

Absolutely! I have high arches and plantar faciitis. I can only wear Birkenstock, Naot, and Dansko. I took a chance and ordered these....they are wonderful! I have now added Chaco to my list of "can haves". Give them a try....I love mine!

Ty - I also have arch issues and actually have to buy superfeet for my running shoes! I used to limp along in Tevas and had to stop wearing them altogether. I've switched to Chacos and love them so much that I'm on my fifth pair! No pain and great tread, making them great for slippery surfaces (like my whitewater boat!). I've hiked in them quite a bit too! The extra straps make them hike-worthy, for sure. Good luck finding sandals you love! -LK

Great question to ask. I have the same problem. I'm not able to wear the flat non support soft rubber flip flops even though I have tried several times. I always go back to my Chaco Hipthong Sport Sandals. They have great arch support and are very comfortable. If you decide to purchase them. Just don't wear them outside of the house until you are sure they have the support you need for your feet. That way you can return them. I hope this information is helpful to you. Have a Great Weekend!!!
The biking girl.