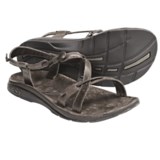 Closeouts. You'll blend right in with the locals in the cool artisan styling of Chaco's Local sport sandal -- a simple, village-style sandal with custom comfort and a recycled outsole.
Average Rating based on
25
reviews
4.040000
0
5
Reviewed by blanca_henrietta from Tucson, AZ on Saturday, November 16, 2013

I really love these sandals, they are very, very comfortable. They are true to size and can be adjusted if you have a slim or wide foot.

Reviewed by Jen from PA on Tuesday, October 8, 2013

These sandals really do not hold to Chaco standard. Comfort level is wonderful..after you get acquainted with how to adjust the straps. The disappointing part is that after less than two months wear, the elastic loop that loops around the button, wore thin, making these shoes undependable footwear. Chaco service rep said that these shoes are not repairable being that they are 'casual footwear', what are the other chacos? , but would replace them, if 'they' deemed that it was a fault in the shoe construction. I have yet to successfully be able to fill out the return authorization..as it is geared to the more typical types of chaco sandals. I will call the 1 800 number, but if you will be wearing these sandals on a regular basis, you may want to skip these and go for another type of 'casual sandal'.

Reviewed by buttons from CA on Monday, September 2, 2013

Being the proud owner of many chaco flips, this is a fun change. However, the suggestion to "size up" for 1/2 sizes did not work too well for me. AND these are hard to tighten/personalize like the other real sandals. I'm keeping them because they are comfortable and cute but I'm flopping about in them.

Reviewed by Jane from CT on Sunday, September 1, 2013

The color is beautiful and it looks very nice on the foot. Although I wouldn't say they are the most comfortable sandal I own, they are fine.
The strap around the back of the foot is adjustable by shortening the string.

Reviewed by ColOmi from Denver on Friday, August 30, 2013

Once I figured out the knot adjustments for my feet, I wore these sandals all day without any problems. I like that they are a bit nicer to wear with skirts and still comfortable for walking.

Reviewed by CR walker from Cedar Rapids, Iowa on Monday, August 19, 2013

I wear these all of the time. They are comfortable and a little dressier than my regular Chaco sandals. I wouldn't hike in them like I do my others but they are overall jus great. Fit, size are about the same.

Reviewed by Julia sings from Maryland on Friday, August 16, 2013

I like the unique look of these very comfortable sandals. There is just enough arch support to work for my plantar fasciitis. I did have to work a little bit to figure out how to custom fit these. I ended up pulling the chord as tight as I could, then tying a knot to keep it from loosening. I don't think I would want to do anything more athletic in them than walking the dogs, though.



Reviewed by Hippy Lady from Bend, OR on Thursday, August 15, 2013

The flowers stamped on the soles are adorable. The shape of the tops sort of make my feet look chubby. They are comfortable to walk in, but will take a little breaking in, they rub a bit on the sides. Happy for the value.

Reviewed by Jen from PA on Tuesday, July 30, 2013

These shoes are true to size. It took me a few tries to get the straps adjusted, but finally got them. Good arch support..overall a great shoe. Havent had them very long, so cant speak about the durability yet.

Reviewed by Illinois Shopper from IL on Wednesday, July 17, 2013

They look nice...before I fitted them to my feet.
By the time I had secured my foot in these, there was lots of left-over cord & it looked very sloppy.
Perhaps my feet are simply too narrow for this brand. If you didn't need much adjustment, they wouldn't look as sloppy.
Or maybe I'm missing something about how they adjust?