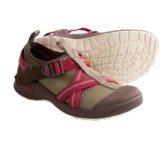 Closeouts. Terrorize creek beds and race down rapids in Chaco's Ponsul Bulloo water shoes. The rubber toe bumper protects your feet from river rocks and fallen trees. The neoprene sockliner and polyester webbing is quick drying and abrasion resistant.
Average Rating based on
34
reviews
4.500000
0
5
Verified Buyer

Reviewed by plasticmom from pa on Friday, May 20, 2016

I love these, they fit just right and can't wait to try them with the kayak! Amazing price!

Verified Buyer

Reviewed by Sanlyn from RI on Monday, August 24, 2015

i would have given this shoe a five star rating, however, I got blisters on my heels the first time I wore them. I really like the super comfortable insole, it has a nice high, supportive arch. The toe box is roomy and accommodates my wide foot. The soles are sticky so you won't be slipping off a rock into a river unexpectedly. I would definitely recommend this product to anyone that loves outdoor water sports.

Reviewed by Mother of 3 from Missouri on Wednesday, August 19, 2015

I was pleasantly surprised to see that these shoes are really more red than salmon/pink. I am not much for pink. also the neoprene fabric part is darker, so all in all the colors look much better in person.

these run a halfl size big in my opinion. I ordered a six and am debating sending it back for the five or the other color in 5.5.. I usually wear a 6 or 6.5 so I was surprised. They are plenty wide for the average foot with plenty of room in the toe box which I love. They have a very thick insole, which is nice, but adds a little bulk and also means overall the shoe is bigger looking than it fits on the inside. I am petite with skinny bird legs so I don't like shoes to look clownish on me. Luckily these still look okay.

Adjustable straps were a nice bonus. They felt comfortable and not too clunky. Not minimalist by any means, but not overly heavy soled. Like any other Chaco's, maybe a bit heavier. Great arch support!

Of course I did NOT buy these for fashion and I won't be wearing them everyday. I bought them for playing in the creek with my kids and I think they will keep little rocks out.

Reviewed by Shelby from Maine on Sunday, August 9, 2015

I bought these at the start of last summer (2014) and wore them for a combined 6 weeks through last summer and this one. My family camps a lot and swims in all of the awesome places Maine offers. Anyway, I loved these things. They are super comfortable. Great width, great cushion, and they grip well on slippery rocks. They also have a real sole so your feet don't feel every stupid rock like you feel wearing most water shoes. Anyway, my first two camping trips this year the shoes were still being awesome, just as they were last year. But a couple of weeks ago I went on a boat camp trip and after my first day, I was putting my water shoes on to get going to our next boat site and noticed my chacos had broken! One of the connecting areas where the straps join the sole just gave and broke away from the sole. Then, as I put my other shoe on the other foot, I noticed the very same thing on the other one. It's weird, both broke at the same time. For a high end product like chaco, I feel the shoes should have lasted much longer than 6 weeks of wear...it sucks because I loved them so very much!

Reviewed by midwestmamma from missouri on Friday, July 10, 2015

i recently purchased these for a canoe trip. It is the third pair of chaco's I own. I love the fit (felt true to size) and color and the look. I did notice after the first time I wore them that they smelled..even a faint smell after drying them in the sun with the insole pulled out. But it is a water shoe...so...I can't really complain. I also wore them wading in a creek for a few hours and they held up good on the slippery rocks. I would probably give them a five star except for the lingering smell (my feet have never smelled in any other shoe).

Verified Buyer

Reviewed by Erin from GR, Michigan on Thursday, July 2, 2015

I love the shoes, they are super comfortable and you can wear them with pants, and they don't look goofy as regular shoes.

Reviewed by sd in FL from Florida on Sunday, June 28, 2015

I recently used this shoe on a trip to several parks in Utah, including hiking The Narrows at Zion; like another reviewer, I added a neoprene sock because I was worried about my feet getting cold. I also used this shoe for hiking without socks, but based on my experience that wasn't a great idea - the seam in the back rubbed a huge blister on the back of one Achilles tendon and a small one on the other. However, I'm not holding that against the shoes b/c it happened on my first hike in them - in a mix of sand and rock, in the heat, with no socks, for a moderately tough 6 miles (not including playing around at our destination for the out and back hike). These adjust like other Chacos and I've had no trouble adjusting them out to fit socks and tighter to wear without. I do think they are absolutely hideous - the giant rubber toe like Keens is just so ugly! But I'm after function here, and aside from the rubbing problem (which I haven't had again), these are fabulous if you don't mind how they look. I'm a 7.5 or 8 and ordered the 8.

Verified Buyer

Reviewed by Water Spryte from San Francisco, CA on Monday, June 22, 2015

have always liked Chaco sandals. Glad to have the adjustable strap as usual to fit my narrow foot. These will be great for walking the chilly beaches of Northern California without getting sand in my shoes to rub my feet. Also looking forward to using kayaking.

Reviewed by topshot from Maine on Wednesday, May 13, 2015

These shoes are so comfortable, and I love the way they look. Unfortunately once they get wet they have some weird reaction with my bare feet and smell horrendous. Not my feet - it's the shoes that smell. So bad, that the odor permeates my entire house when they're not in use. Only washing them in the machine takes away the odor. I have to wear them with socks to avoid having them smell, which kind of defeats the purpose of water shoes. I also tried the Chaco sandals and had the same issue. I've never had smelly feet problems before so it's definitely the Chacos.

Verified Buyer

Reviewed by M. L. from Seattle on Monday, May 4, 2015

These were comfortable for me right out of the box. This is the soonest I have ever recycled the box of new shoes and walked in them right out to the collection can on the driveway! That's how sure I was that they would work for me.

Also, the Salmon Run color is refreshing. I've gotten several compliments on them so they aren't just functional, they're also cute.