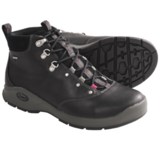 Closeouts. Venture where sandals can't go! Chaco's Tedinho boots offer a rugged, trail-ready design with a sturdy leather upper and waterproof breathable membrane for 360-degree performance.
Average Rating based on
55
reviews
4.400000
0
5
Reviewed by A. Fallon from Michigan on Thursday, February 9, 2017

I adore these boots. If they ever come back into stock, I would happily buy another pair of them. These are great boots for a variety of things--they've kept my feet dry and comfortable in so many different situations. I've worn them on short hikes, working in a window restoration shop, at a historic preservation field school, and just about everywhere else. I wear them as everyday shoes often in the fall and winter. They're comfortable, sturdy, and look nice enough to wear out and about as well as when doing work or hiking.

Reviewed by Anonymous from CA on Friday, April 10, 2015

My last pair of hiking boots has vibram sole and steel shank. This boots are too soft for long backpacking trips. They are very comfortable though.

Verified Buyer

Reviewed by BusyGirlieGirl from Pacific Northwest on Tuesday, December 9, 2014

I bought these to use for all those chores that require good footwear...and possibly hiking. I cannot speak to the hiking yet, but I wore them for a cold indoor project with lots of standing around and they were comfortable, kept my feet warm and I received some compliments on their stylishness. They fit true to size and seem to be decent quality. I would recommend.

Verified Buyer

Reviewed by deb from Virginia on Wednesday, December 3, 2014

I love the look of these boots. I tried them on and they rubbed at my ankle. I need to wear them around the house a bit more, but I suspect I'll need to return them. They were true to size and the foot portion feels comfortable, it's just where they hit my ankle that hurts. They are not very pliable or soft there. Perhaps they'd loosen up, but I don't know if my ankle can take the abuse until they do.

Verified Buyer

Reviewed by Bean from Arkansas on Thursday, November 20, 2014

I'm a big Chaco sandals fan (I own 3 pairs, and wear them pretty much every day in nice weather), so I was hopeful the boots would be as good. I ordered a half size larger than my sandal size, to be sure I had plenty of room for wool socks, and that turned out to be a good idea. The fit is good, the arch feels great, and in wearing them around for several days, they are comfortable. I have yet to wear them on a long hike, and yet to wear them when it's raining or crossing a shallow stream, so I can't say how the waterproofing is yet. But so far, I'm really happy with the boots.

Verified Buyer

Reviewed by Living the Dream from Colorado on Thursday, September 25, 2014

lightweight. sizing is correct. very comfortable. also bought a second pair.

Verified Buyer

Reviewed by Boot gal from Washington on Sunday, August 24, 2014

These boots are going to work great. They are light and comfortable for working in(hard work). The size 7.5 fit perfect. I Also got Chaco Bulloo 7.5 should have got a 8. Ran a bit smaller. I would buy these again.

Reviewed by Boot gal from Washington State on Tuesday, August 12, 2014

Got these yesterday. Wore them around the house. They fill great. True to size 7.5 . I need a light work boot and these will do the job. Seem like a nice quality pair. Thanks.

Verified Buyer

Reviewed by Jaye from northeastern Washington on Tuesday, June 24, 2014

I've been delighted with Chacos for several years now but have never had a pair of Chaco boots. As I've only tried them on but not worn them around yet, I'm only rating them 4 stars. They do seem like they're going to be a wonderful boot--comfortable like all my Chacos, gray arch support, well made.

Verified Buyer

Reviewed by pabeans from Pennsylvania on Friday, May 23, 2014

I ordered these to see if they could replace my backpacking boots. I have Chaco Unaweep sandals and love the insole -- great support for the foot with Evil Plantar Fasciitis.

My sandals are a 7. I ordered the boots in two sizes, 7.5 and 8. Truthfully, I can hardly tell the difference between the two sizes, and may keep both pairs. I haven't worn them outside the carpeted areas of my house yet, but this is what I've noticed so far:

1. A 7 -- the size that fits me in the sandals -- would have been too small.
2. The insole does not feel like it has the same support as the sole of the Unaweep sandals.
3. When they're laced all the way to the top, the top loops press uncomfortably on my ankle (not a big deal, I just won't use the top loop).
4. The outsole is very flexible -- bendy at the metatarsal. I've been wearing backpacking boots for years, so I'm used to the stiffness of a steel (or steel-like) shank and the support of a higher ankle cuff. As these are a mid-weight dayhiker, they have a totally different feel.
5. You can "feel" the floor (and presumably the rocks on a trail). Again, this is most likely because I'm used to backpacking boots, not dayhiking boots.
6. I took the insoles out of the boots and put them next to the sandals. To my eyes, the arch of the boot's insole does not look to be as high as those of the sandals. It's also not as firm; you can poke the boot's insole at the arch and it gives a bit. You can't do that to the sandal.
7. The heelcup is nice and deep, perhaps even slimmer than on the sandal, but not constricting as it does give a bit when it's inside the boot.
8. The toe box is roomy, though not swimming-pool wide.

For me, I think they will make great beefy everyday shoes, as opposed to hiking boots.