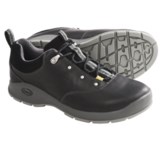 Closeouts. Chaco Tedinho Low shoes are comfortable, sophisticated and ready for adventure. The full-grain leather upper has stylish details like a suede collar, jacquard webbing down the tongue and silver-tone hardware
Average Rating based on
47
reviews
4.510638
0
5
Verified Buyer

Reviewed by KodakKen from New Mexico on Wednesday, February 18, 2015

One benchmark I [...] a new shoe is how it feels, right out of the box. Many speak of breaking in a shoe, which a acknowledge does happen as the shoe is worn, but if a shoe is comfortable from the first lace up, that's how I give a shoe a high mark from the get-go. Others recommended Chaco products to me, so this was my first acquisition, and I'm pleased with my purchase. Besides being comfortable, the shoe looks smart, and it will see a lot of long distance roaming in my travels.

Verified Buyer

Reviewed by Mike from Washington State on Monday, February 16, 2015

I recently wore these almost new, on a two week trip. They were my only shoes, so had them on all day every day. Comfortable, no problems at all. Just ordered a second pair to have a spare.

Verified Buyer

Reviewed by Driftless from Driftless, Wisconsin on Sunday, February 15, 2015

Good shoes are just worth it. And good shoes at a great price are worth it even more.

These are my first Chaco shoes and they became my favorites within a day. I like the style, just dressy enough but still says "this is an outdoorsy person."

The fit is a little large, like a 1/4 size, as I can comfortably wear thick light hiking socks with no problems. The support is great giving my feet all day comfort.

My only complaint is minor. I find I have to tie the shoes often, unless I tie them very tight. Which I reserve for my hiking boots and cycling shoes. Like I said, minor complaint.

Verified Buyer

Reviewed by The Vet from Southern California on Sunday, February 15, 2015

I'm on my fifth pair of these Chaco tendinhos, and still love them. I am on my feet all day, and they provide comfort while looking great. Hope they never stop making them.

Verified Buyer

Reviewed by Bill from Texas on Friday, January 23, 2015

Sizing was perfect. These are comfortable, sturdy shoes that I can wear with jeans or slacks. I made a good choice.

Reviewed by Folsombill from California on Monday, January 12, 2015

I usually fit to a size 11 but my toes were hitting the front. Exchanged for a11 1/2 and they
have been very comfortable. Been wearing them for about a week with no problems!

Verified Buyer

Reviewed by Jerry Norton from Saint George, Utah on Friday, January 2, 2015

Put these on and walked about seven miles with no issues.

I'm not crazy about the green shoelace, but I've already changed them for brown.

Verified Buyer

Reviewed by Gofish from Northern,Ca. on Saturday, December 13, 2014

Nice looking shoe but was very wide for a medium width. I ordered a different style Chaco shoe (Adder) prior to this one that had more of a lace to toe design that fit fine. This model had a wide box toe and heel causing too much movement of the foot.

Verified Buyer

Reviewed by mebush from California on Thursday, December 11, 2014

These are the best shoes I've ever worn. No kidding or exaggeration. I'm a high school teacher on my feet most of the day. Most shoes left my feet fatigued by the end of the day. Not these.

That said... The tongue on these shoes was funky at the beginning. But once broken in, it was fine. The arch support is good. The soles are long-lasting so far.

This purchase was for my third and fourth pair of these shoes. Not because they've worn out, but because I wanted new pairs available was these finally do wear out. They are a discontinued model so I got my extra pairs while I could. They're that good. I'm 50 now and hope my four pairs will last me to the end whenever that ends up being.

I hope others have the same experience that I did.

Verified Buyer

Reviewed by Canyon Runner from South Dakota on Thursday, December 4, 2014

No real break in needed. Lite weight and comfortable.