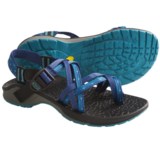 Closeouts. With a lightweight, water-ready design and Chaco's custom-fit, pull-through-the-sole straps, Chaco X2 Genweb sport sandals are ready to take on your whitewater rafting trip, the hike down to the water and the walk home.
Average Rating based on
67
reviews
4.626865
0
5
Verified Buyer

Reviewed by CTMom from CT on Saturday, February 7, 2015

I want to love these sandals, but the straps are so tight I cannot even fit my big toe into the toe loop! The footbed seems comfortable but if I can't get them on, it doesn't matter.

Verified Buyer

Reviewed by SusieQ from North Carolina on Saturday, January 3, 2015

I knew that Chacos are great sandals before I bought them for my daughter. She's been begging for a pair for two years now and this was a great price. My question is always how do they fit when buying online. I wear a 9-9.5 in regular shoes, sometimes a 10. In running shoes, I wear at least a 10, sometimes up to an 11. In these sandals, I bought a 10 because the reviews said to buy up if you're between sizes. My daughter's feet are slightly bigger than mine, so these should be fine for her, but they were big on me. I would have been very happy with a 9.

Reviewed by Epsilon from San Francisco on Wednesday, September 10, 2014

Well made sandals, but like most chacos these were just too loose in the heel. Not a problem for many people, I know, but I've had to switch to tevas just to find a sport sandal that wouldn't slip off in the back.

Reviewed by WildernessAtHeart from Washington on Wednesday, August 27, 2014

i love about this shoe... i feel great support and hold all my feet that I can walk into water without worry about slip out..

Verified Buyer

Reviewed by LeaM83 from Idaho on Thursday, July 24, 2014

I can already tell that these sandals are going to be my go-to when I'm looking to take a non-technical hike. The toe loop gives me confidence in my footing and I know I'm not going to feel like some web-footed mutant when I'm slogging through water. The double straps are a little tricky to adjust, but play with them and it will get easier to understand what adjusts what. It's nice to have two so that you can adjust them separately, but maybe not totally necessary. I do like the aesthetic of it, though. This model is definitely lighter than other Chacos I tried on and the foot bed has more arch support. This makes it seem a little weird at first, but then you start wondering where it is when you put on another pair. On the other hand, this might make them uncomfortable for some people. My one gripe has to do with the heel strap. I definitely like that it's lower than other pairs (which felt a lot looser as a result), but the straps that secure it to the sole go into a rather wide slot that sticks up above the foot bed. This slot is stiff and is rubbing against my feet and, while not causing a blister, isn't the best feeling in the world. I'm hoping they will wear in and it'll be fine. If you're thinking I must just have wide feet, think again - I don't and actually returned a pair of Teva sandals because I had to tighten the straps so much they touched the ground.

I'd say these sandals are pretty true to size. I wear an 11/11.5 and I ordered down to an 11 (due to availability issues). They fit, but an 11.5 would be better. And, if Chaco doesn't make an 11.5, a 12 might be nice (if a tad big). I say these are true to size because the description specifically says to order a half size up and I'd agree with that.

Verified Buyer

Reviewed by Amanda from Texas on Tuesday, July 1, 2014

Great product for a low prices. Very pleased.

Verified Buyer

Reviewed by Teri from Los Alamos NM on Tuesday, June 24, 2014

These were the most adorable sandals! I have very narrow feet, and honestly, I still can't get them to fit right. It might be "user error," but I can't get the straps adjusted. I will give it a few more tries, and then I will have to return them.

Verified Buyer

Reviewed by Linda McK from Oklahoma on Tuesday, June 24, 2014

I picked these up for my grand daughter because we loved the colors, the style, and the price here at Sierra Trading Post. She is very happy with them and they fit great. The shipping was fast, we couldn't be happier with them.

Verified Buyer

Reviewed by forthefirsttimeinforever from Kansas on Friday, June 20, 2014

Absolutely love these shoes! Comfortable and wear-anywhere! The straps had less wiggle room than anticipated, but I think with time they will wear in just perfectly.

Verified Buyer

Reviewed by rls from Dodge City on Friday, June 20, 2014

My daughter and I decided to try out my new chaco s and her old chaco s on a mountain hike. First day to wear my shoes on a 4 hour hike climbing 2000 ft and we had to ford a small river where the bridge was washed out. I do not recommend that this be your first day to break in shoes but we did it anyway - and they were great. I did get one blister and I think it was after they were wet and going back down the mountain. They wash well, they are durable. I am impressed with the Chaco s.