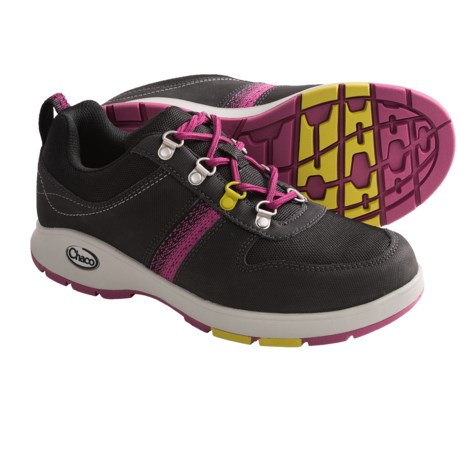 I found that these are all I want to wear, so I bought a second pair.
Verified Buyer
Reviewed by EL from Central AZ on Thursday, February 5, 2015
Bought my first pair for mountain biking. They performed far better than I expected! My feet are a bit wide and I love that these have lots of room in the toe box - no squished toes!

The good/ amazing: On my first ride with these shoes we explored some sand washes here in central AZ. Trying to maneuver around some rocks I stepped on some sand that I learned was quick sand as soon as my foot was submerged nearly to the laces. Oops! Pulled my foot out before it sank further and I was shocked that my feet stayed completely dry!

Later on the ride I didn't see a nasty little teddy bear cholla cactus hiding in a tuft of dry grass. To my horror I full on kicked the cactus as I was pedaling. Expecting a foot full of cactus needles - only two of the needles stuck, and just barely, to the front of the shoes. Again I was absolutely shocked. If you have seen those evil little plants you know how cool this is. For those of you that haven't - Google it. They are no joke. These shoes saved me twice that day!

The not so good:
Otherwise, I noticed they tend to slip off a little at the heel. I don't notice it while I am wearing them, but after a long ride or all day walking around I find some skin has rubbed off the back of my heel. Oddly where the skin has rubbed it doesn't hurt, I just notice it later in the shower - not while riding or walking. I also think there is so much room in the toe box my feet are able to move around a lot and causes a little rubbing at the widest part of my foot, which again doesn't hurt.

My synopsis: great shoes!

Lots of room, yet my feet feel secure and supported (I have high arches). They are bit stiff. At first the tongue dug into the front of my foot but after a good ride the tongue softened. The low cut area around the ankle toward the heel does let dirt and small rocks in while riding, not so much while walking.

Found that I didn't want to take them off after riding - that is a really good sign. Riding really beats the [...] out of my shoes, so I bought another pair that will look nice when I want to wear them out and about.
Most helpful negative reviews
Similar items and more information in the following areas: