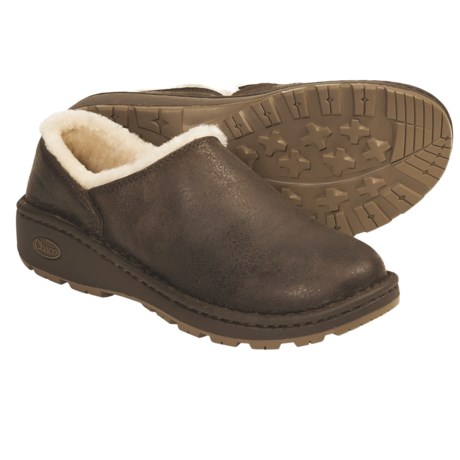 Snuggly, quality Chaco shoe!
Reviewed by imarunner from Oregon on Friday, October 4, 2013
For those who aren't familiar with Chacos or other shoes designed for anatomically correct foot support, please give these some time! Give any Chacos or good supportive shoes some time to get used to the different feel. The vast majority of shoes out there are not designed to support you feet in an anatomically correct way, and it will take a little bit of adjustment to become accustomed to the different feel. I am a new convert to supportive shoes, and I cannot sing enough praises! Once you find shoes like Chacos, you can't go back to regular shoes. Most people pronate as they walk (their feet roll slightly inward while walking or running--even standing!). This motion can cause different problems, especially over time. Chacos, and other shoes approved by the American Podiatric Medical Association, support your feet in way that encourages your feet to move in a more neutral motion, lessening stress on other parts of your body (like ankles, knees, hips) as well as correcting the causes of things like plantar fasciitis (and other foot issues).

That out of the way, this particular pair of Chacos I ordered because I want to wear Chacos all the time now! I was planning to wear them around the house as slippers and out of the house to take the kids to school and run quick errands. I was surprised that these are full-duty, Vibram-soled shoes. Extremely supportive--more firm support than the Ecotread flip-flops I've been wearing every day. I can see why these may not work for those who have wide feet through the middle of the foot. The firm arch support feels narrower than other shoes through the middle of the shoe. I do not have wide or narrow feet, and these shoes work for me. I have 8s in my flip-flops and sandals from Chaco because those only came in whole sizes, and I've read to size up in Chacos. I've always worn a 7, but I've leaned toward 7.5s after my 3rd baby (I think my feet actually did get a bit bigger). My feet measure 9 1/4 inches, or 23 1/3 centimeters; I ordered a 7.5 in these shoes, and they fit me well. My toes are able to wiggle all around. My heel moves a tiny bit as I walk, as other reviewers have mentioned, but I do think it's the nature of the slip-on, lowish-back of the shoe's design. The slight movement doesn't bother me, especially since I bought them for around-the-house wear. The top of them appears slipper-like, but the support, structure, and materials of the bottom are most un-slipperlike and functional for all-purpose use. The top is made of thick, firm leather that will withstand lots of wear and tear.
Most helpful negative reviews
Similar items and more information in the following areas: