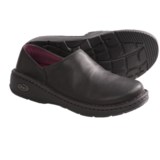 Closeouts. The sleek design of Chaco's Zaagh shoes appeal to your practical but stylish side. With the comfort and support of the ADDSTRIDE midsole and traction from the Vibram® outsole, these slip-ons will become daily favorites.
Average Rating based on
105
reviews
3.342857
0
5
Verified Buyer

Reviewed by Suzume from West Newbury on Wednesday, March 8, 2017

This is my best shose in my life. It is a smooth laser,simple design, fit my foot but not expensive!


Reviewed by Liz from West Virginia on Saturday, August 27, 2016

I live in my Chaco sandals but these shoes are unbearable!! They don't bend with your foot at all, and left me with awful sores on the tops of my feet. Do not buy these!!

Reviewed by Trillium2014 from Pennsylvania on Friday, August 19, 2016

Given all the great reviews, and having other Chaco shoes I love, I got these in my typical size (8). First, they were too large, all over. The opening for the foot is quite small, but then my foot swims inside. The leather is hard and wouldn't budge/bend as I tried to walk. The heel flipped off on each step. The sole extends around the outside of the shoe for stability, but made my foot look another size larger. They appear to be made well, good materials, long lasting, but they were just all around odd-feeling, odd-looking, odd-fitting.

Verified Buyer

Reviewed by aslats from alaska on Wednesday, August 3, 2016

shoes have a very small opening to put your foot into, does not stretch or give. it was so hard to get my foot into that I cannot even wear them. they seem like nice quality though.

Verified Buyer

Reviewed by Luumu from Seattle on Wednesday, July 27, 2016

I am a reliable 8, but these were tight in the toe and loose in the heel.

Verified Buyer

Reviewed by Rhonda Bailey from Mississippi on Wednesday, May 18, 2016

I have enjoyed wearing these to work. Will consider buying them again.

Verified Buyer

Reviewed by SH from Washington on Thursday, May 14, 2015

I love these shoes. There is so much support in them. They are very comfortable, and they look great!

Verified Buyer

Reviewed by Roberta Vanderah from Iowa on Saturday, April 18, 2015

I really like these shoes, so comfortable. I have other Chaco slip-ons as well and they are my everyday shoes. I spend a lot of time on my feet and these are very supportive. I usually wear a 10 or 11. I opted for the 11 and it was too big so returned and got the 10.

Verified Buyer

Reviewed by l123r from Wales,UK on Saturday, April 11, 2015

I have quite a few pairs of chaco shoes, boots and sandels that I have been able to purchase in the UK, I really wanted these shoes so ordered them from Sierra, the only problem with this was the cost of the import duty, horrendous to have to pay another £28.00. The shoes were as the reviews suggested,hard leather so I was prepared for this, I could hardly get them on, squashed my feet with my socks , so here's a tip I tried and it works, put the sock in the shoe first, then slip your foot in, no tight socks and the shoe fits. Now heres how I dealt with the hard leather, I purchased some Flexalan oil, similar to neatsfoot oil used to oil horse saddles and tack, coated the shoes a couple of times and now they are soft and I can actually put the shoes straight on without needing to put the socks in the shoes first, the shoes are really comfortable now and I am very pleased. Would buy from Sierra Trading and recommend them, but I am not willing to pay any more import duty. I purchased other things from America that were sent through international shipping and did not have to pay any import duty, if Sierra trading could post things like that, I would be buying lots more things from this company. Very pleased with these shoes though, hope the tips help.


Verified Buyer

Reviewed by 3dvizwiz from Boulder, CO on Monday, April 6, 2015

It took me a long time to order a pair of these, since the reviews here ranged all over the place from love to hate. I had seen a review on Another Site that noted that if they fit, you will love them, and that if you found them and they fit to grab them before they went away forever, so I figured I'd best give it a shot. Well, I guess I'm one of the lucky ones, because they fit, and I don't just love them, I LOVE them. My toes just almost touch the end in my regular size 9, but with the arch support, there's no sliding, and so my toes are okay. I was fortunate enough to find a second pair at the Cheyenne store, one in 9 and one in a 9.5, and the 9.5 that I tried on was too loose for me. I have a somewhat narrow foot, if that helps folks to decide what to do, but I'm a happy camper. Thanks, STP!!