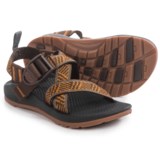 Closeouts. The kids can run wild in Chaco's Z/1 Ecotread sport sandals, featuring anatomic support, pull-through-the-sole adjustable straps and non-marking, slip-resistant rubber outsole.
Average Rating based on
130
reviews
4.646153
0
5
Verified Buyer

Reviewed by Kimster from Idaho on Sunday, March 12, 2017

I have been buying chacos for years. Everyone in my family who can wear chacos owns a pair. I love buying them from sierra trading post. I know kids grow fast so I buy gender neutral colors if possible. The only draw back to the kids chacos is the strap to tighten down the sandal is a bit long. It drags on the ground. My son has average feet for width but it still has ample length.

Verified Buyer

Reviewed by Misty from Alabama on Friday, February 24, 2017

Great fit on a picky son!

Verified Buyer

Reviewed by LuckyWife from North Carolina on Sunday, September 25, 2016

I have 4 boys. Need I say more? These are the only sandals that last and last. Every other pair of shoes, I'm lucky to get one season out of them without them looking like they're a puppy's chew toy. The adjustable straps make them work for my slim ones as well as my 'well-rounded' son as well. Love when I can find these on sale. Sierra Trading Post can't be beat.

Verified Buyer

Reviewed by Super-Stoked Momma from Idaho on Saturday, June 13, 2015

We are a very active family filled with Chaco enthusiasts. My three-year-old son loves his new sandals! They are comfortable and cool for him in the summer and provide the traction he needs to help keep him safe on slippery surfaces. His feet are growing so quickly, I was pleased to find these at such an affordable price so early in the season. They seem to fit pretty true to size and we had no problem getting them adjusted correctly for him. Super happy with these!

Verified Buyer

Reviewed by LuckyWife from NC on Thursday, May 21, 2015

So my mechanical engineer husband loves his Chaco's. RAVES about them. His last pair lasted him something amazing like 10 years or so. When I saw they make them for my little guy, I couldn't wait to get the Mini Me a pair.

Well, I made the mistake of taking them out of the box myself. I should have just left them in there and waited until my husband got home like I do when something breaks around here. The adjustment system on these sandals are made either for an engineer or a magician.....pull this strap and the one on the other side of the shoe shortens, pull that one you just shortened, and the one at the front of the shoe gets longer! It's really quite magical and not just a little bit confusing if you're not used to it. Not to be outdone by a pair of shoes, I forged on and attempted to fit them for my little one's chubby feet. But I just couldn't quite get the hang of it and this itty bitty pair of sandals made a mockery of me and my footwear skills. With that being said, once my husband came home and the shoes were adjusted properly, they're great looking, sturdy and stable. I am sure my son will outgrow these way before they wear out and maybe by then, I'll finally have figured out how to put them on!

Verified Buyer

Reviewed by Desert Grandpa from Israel on Thursday, March 26, 2015

These is the second pair we purchased only because the kid is growing. It's nice when sandals take heavy use in the desert and still have life to be passed to a longer brother.

Verified Buyer

Reviewed by Indieivy from California on Wednesday, March 18, 2015

I have worn Chacos for over a decade. I've hiked, rafter, kayaked and hung out in them. Now it's my 7 year old son's turn. It's like a right of passage. I wasn't sure how he was going to like them. He's loved them form day 1 and these are now his go-to footwear.

Verified Buyer

Reviewed by Lindsey from Georgia on Tuesday, March 17, 2015

We decided to get my 8 year old son a pair of Chacos as his all-summer-long-shoes, since they will take a beating and are good for beach, water, or regular play. I liked the darker color green , as they won't show dirt, so he can get away with wearing them with "nicer" outfits too! So far they're a hit, and since you can adjust the z straps, the half size larger that we purchased will be just fine !

Reviewed by skilover from New England on Thursday, September 25, 2014

Ordered these Chacos for my kids at first, they didn't like them. I've got a small foot so I thought they would be great for me. The straps set fairly far back behind the toes. That leaves a large piece of the footbed under my toes without a strap. I've spent one and a half years with that front sole getting caught on things and nearly tripping me. After a walk on the Maine coast aged me a decade due to the "almost tumbles" down the cliffs, I'm done with these shoes. I don't like them at all, and they are going back. For me they are not safe.

Verified Buyer

Reviewed by Nubs from Seattle, WA on Tuesday, August 12, 2014

Both of my kids have these sandals. Both kids love them. They are supportive and provide good support / traction when playing in the river. The best part is they have the words "No Whining" stamped in the sole. Funny thing is that they both refer to that when they catch each other with bad attitudes.