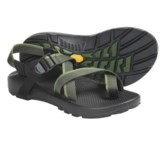 Closeouts. Whether you're a waterbug or not, Chaco Z/2® Unaweep sandals will hold your feet (and you) securely on wet terrain or dry. Polyester strapping wraps around foot and through midsole for allover fit with just one pull.
Average Rating based on
201
reviews
4.587064
0
5
Verified Buyer

Reviewed by Ben from Nebraska on Wednesday, March 23, 2016

These sandals are very comfortable and very adjustable. The first two times wearing it made my feet sore but after they broke in a little they are just fine.

Verified Buyer

Reviewed by The Subversive Lemming from The World on Wednesday, March 9, 2016

Hi

First thing Ill note is a supportive critique, because I know they can reverse this easily enough.

The quality of the webbing has gone down in quality a few years ago.
A noticeable difference in how strong and lasting it use to be to now that its just another lets cut corners
and people will have to throw em away into our throw away society sooner.

I dont respect that.

Chaco, I use to have more of a high respect for
and still do though the height is lowered,
including changing their manurfactuering over to China.

They still easily beat out Tevas
and the other companies who use velcro which is [...].

I live out of Chacos and Five fingers, even in my professional life.
Being in healthy foot support is essential to me.

Imagine after years of abuse having to have knee and other replacements or simply suffering.
Guess you could always walk on your hands, though that would definitely give you another perspective on life.

Verified Buyer

Reviewed by Briancw from Kentucky on Tuesday, March 8, 2016

This is my 3rd pair of Chacos, replacing a pair that I have had for 10 years. Even though these are not exactly like my old ones, the changes they have made are great. It is finally warm enough to wear them! Would highly recommend to anyone that lives in sandals. Also great for people that have foot issues.

Verified Buyer

Reviewed by Craig from MN on Saturday, January 2, 2016

Straps are very hard to adjust and very uncomfortable

Verified Buyer

Reviewed by TMauney from North Carolina on Tuesday, December 29, 2015

What can you say, they're Chaco's! They're solid sandals with great feel and adjustable straps to suite any foot size and shape. My son loves them!

Verified Buyer

Reviewed by Jeff the Kayaker from Arkansas on Sunday, December 20, 2015

I have 5 pair of Z/2's and I love them...about all I wear. They never wear out and are extremely comfortable.

Verified Buyer

Reviewed by ToddW from Illinois on Tuesday, August 11, 2015

Comfortable fit, great sandal for paddling, etc.,

Reviewed by MR. CADILLACMAN62 from LOS ANGELES, CALIFORNIA on Friday, July 24, 2015

THESE ARE TOP QUALITY SANDALS FOR MEN, AND THEY HAVE THICK TOP OF THE LINE INNER AND OUTER SOLES THAT ARE SURE TO LAST FOR YEARS TO COME! PLUS THE LONGER ONE USES THEM, THE MORE COMFORTABLE THEY WILL BECOME. I NORMALLY WEAR A SIZE 16 M, BUT BECAUSE THESE ARE AVAILABLE ONLY UP TO A 15 M, THEY FIT FINE, PERFECT TO BE EXACT. IF YOU WEAR A 16 M LIKE ME, IT'S A SAFE BET TO GET THE SIZE 15M AND YOU WILL BE FINE. I DEFINITELY RECOMMEND THESE TOP QUALITY SANDALS FOR MEN! PLUS, YOU CAN'T BEAT THE SALE PRICE!

Verified Buyer

Reviewed by Gypsy woman from Pennsylvania on Monday, July 6, 2015

I actually bought a men's pair size 8.
I have been wearing women's size 10 but saw these in men's size 8 and figured to try these .
They feel better than the women's, more comfortable and so well worth the monies!!!



Verified Buyer

Reviewed by Lori from Tennessee on Friday, July 3, 2015

I bought these sandals for my son. He loves that he is able to adjust the straps to fit his feet perfectly and I love the price !!!! They are a bit to heavy, but he says that is no problem.