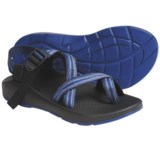 Closeouts. If it's supportive, water-ready performance you need, look no further than Chaco's Z/2 Yampa sport sandals, featuring Chaco's renown pull-through-the-sole adjustable straps and a Vibram® Yampa non-marking rubber outsole with 2-3mm lugging and water drainage channels.
Average Rating based on
106
reviews
4.537735
0
5
Verified Buyer

Reviewed by Carlie from Georiga on Tuesday, November 3, 2015

I ordered these for my father, who has bad feet, to try. I have several pairs of chacos and my dad loves his! I loved the color and the price I purchased these sandals at.

Verified Buyer

Reviewed by Tall Fam from Deep South on Thursday, August 20, 2015

Love these shoes! So glad that Sierra had them available in my hard to find size,14, AND at a substantial discount ABD in an awesome neutral color. I'm a college student and it was an easier pill for my parents to swallow after books and tuition to buy these shoes for me as a replacement pair for the ones I've had 2 years

Reviewed by lacrossefreak17 from WA on Thursday, May 29, 2014

They are nice sandals, I would agree with most people here that you should order down a size (or atleast a half). I have two problems with them that no reviews touched on, one being that the strap for the big toe is too small. Yes i know that it is customizable, but if I lengthen it it takes away from the top of my foot which I need to get the shoe on. Also, the part of the shoe that contacts your foot is very unforgiving. Not painful, just uncomfortable to begin with. Would be great shoes if I could get them to work properly. Heel also slips if you dont strap down really tight.

Verified Buyer

Reviewed by Anonymous from Florida on Wednesday, May 28, 2014

Very stylish and super comfortable sandals! Took me a few minutes to figure out how to adjust the straps to make the sandals looser on me. The instructions are on the inside of the Chacos box!

Verified Buyer

Reviewed by Donnie Bartlett from Morgantown, WV on Monday, May 12, 2014

I just love them! They fit perfectly, the strap is user friendly, the soul has the perfect amount of padding... Again I love then! They're great!

Verified Buyer

Reviewed by MG3 from tennessee on Thursday, May 8, 2014

Chacos are the best shoes/sandals ever!

Verified Buyer

Reviewed by Noahloe from Kansas City on Wednesday, April 23, 2014

I used to make fun of my friends for owning Chacos, but boy was I mistaken. These shoes are incredibly comfortable and I take back all my former thoughts regarding Chacos. Not to mention how easy Sierra Trading Post made the purchase with a fantastic way to narrow down what I'm looking for and getting precisely what I need.

Reviewed by Aaron from Oklahoma on Thursday, April 3, 2014

Everyone was talking about how comfortable these sandals were. They were right! If you don't have arches, it can be uncomfortable at first as these sandals add support. It also might take a bit of time and patience to get your straps to a comfortable tightness.

Reviewed by Dani from North Carolina on Monday, March 10, 2014

I love hiking and I have been wanting Chacos for a while, but they are just so expensive! I was so excited when I found the perfect pair of Chacos on here for only $60! They shipped in no time, and I am definitely a happy camper.

Reviewed by Superdave1994 from Mid-south on Tuesday, November 12, 2013

Worn Tevas for years and had kicked around getting Chacos, but did not know if they would impress. I will say that I am now a convert. Nothing wrong with the various styles of Tevas through the years, but these do things a little better. Wide widths available and they fit great. Do not be afraid to try a pair.