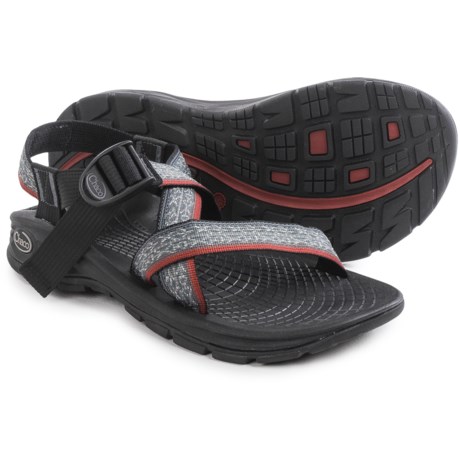 Chaco Z / VOLV are SWEET
Verified Buyer
Reviewed by Bobo from Seattle on Tuesday, October 4, 2016
My Chaco Z/1 Classic "died" after more than 25+ years. It was my daily footwear every summer and on countless hikes and treks. I tried to get it resoled through ReChaco Repairs, but they said it was too worn out to be repaired. It had been a favorite and a dependable sandal that I was a little bummed that I had to replace it, but I had no doubt that I was going to replace it with another Chaco.

When I originally purchased my Chaco, they only offered one style - the Classic Z/1. Now days, Chaco offers so many different sandal styles and designs that I was confused by the many choices. Since I was familiar with the Chaco Z/1 Classic, I was leaning toward re-ordering that one, but then I remembered something. It took me a couple of years to "break in" my Chaco Z/1 Classic. They're like leather hiking boots that need to be broken in before they're comfortable to wear. I didn't want to go through another "break in" experience.

I compared details of all the Chaco sandals and selected the Z / VOLV based on its price, its lightweight, and 3-mm lug depth.

The Chaco Z / VOLV is significantly lighter, more flexible, and it has a much softer footbed than the Z/1 Classic. Out of the box, I wore it on a 3-mile hike and I found it very comfortable to wear. Toward the end of the hike, I did notice that I was getting a "hot spot" on one of my heels, but a quick dab of Body Glide ended any threat of a blister. I highly recommend using Body Glide as a precaution to avoid blisters.

I doubt I'd get 25+ years out of the Chaco Z / VOLV since they're so lightweight. Given how often I wear my Chaco, I'd be lucky if it last five years, but that's long enough to satisfy me that I got my money's worth out of it.

I wear a size 8 1/2. Chaco sandals are sold in full sizes. Some users have recommended going DOWN in size. Sierra Trading Post recommends going UP in size. I concur with Sierra Trading Post's recommendation. Chaco sandals aren't like shoes or boots. Chaco sandals have straps that are designed to be tighten to fit your feet. Even though they are tighten, there can be some slippage in your feet if you're scampering up or down a trail. If your bare feet are too close or over the edge of the sandal's footbed, your feet will be unprotected. The extra width of the footbed adds protection to your bare feet against rocks and shrubs and other things on the trail that can cause injury.

There is one thing that I did NOT like, but it's a small dislike. The end straps on the sandals are too long. It's not a deal buster, but Chaco should make the end strap an inch or two shorter.

One other thing that I need to mention. Most Chaco sandals are now made in China, but if you want a custom-made one or a certain Classic style, those are made in USA. Although my Chaco Z / VOLV are made in China, the quality seems to be very good.
Most helpful positive reviews
Most helpful negative reviews
Similar items and more information in the following areas: