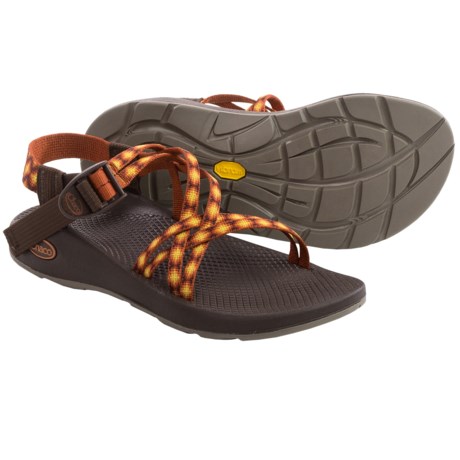 I would have to say they run pretty true to size width wise.... Even tho the straps are adjustable, you would be better off waiting til a wide pair becomes available.... Very comfortable sandel BTW :-)

Hi Caitlin,

If I were you, I'd stick with the wide width. I wear a nine wide, and although my feet will fit in a medium Chaco, the wide sandals are much more comfortable and my toes don't hang off the side. If you have problems with low arches, you are going to LOVE the arch support these shoes give!!! I have bought 4 pair of Chaco sandals and 3 pair of Chaco shoes from Sierra Trading, and I don't wear anything else!

Hope this helps!

You will definitely need a wide if you regularly wear a wide in other shoes. Before having a child I was able to wear the regular width, but afterwards they rubbed on the outside of my foot right under my ankle. Also, since you haven't had Chacos before, you may want to try them on in a store first. I wear a 9.5 wide in most shoes, but in Chacos I wear 8 wide. So, find your size & then buy on this website because they're much cheaper.

According to our fit team this item is running true to size.

I also have a wide foot. I ordered the 9 wide and they fit perfectly. If your foot is truly wide I wouldn't order a Medium width, but, if you just like the extra room a Medium would probably be ok. Hope this helps.

I would not take the chance. Chaco's fit on the narrow side,(unless you buy them wide) Best bet would be to try someones on or go to a store to make sure before you buy. Or just return them if they don't fit. STP is very good about returns.