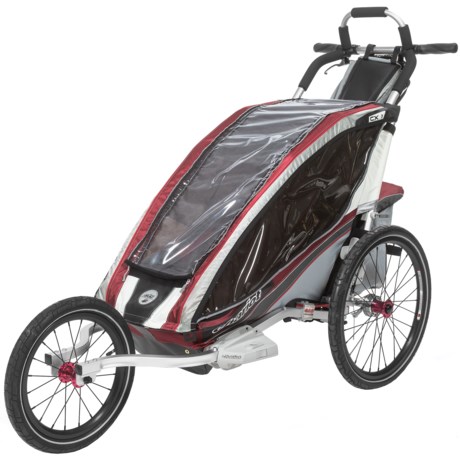 Awesome Stroller, Go Anywhere and Anytime.
Reviewed by Kirpatty from Lake Tahoe on Sunday, May 18, 2014
We bought our 2012 Chariot CX 1 from Sierra Trading Post and we love it. I needed a way to get out and get exercise without hiring a baby sitter, and this is it. This is exactly what we needed. It was easy to set up. The pictures in the printed instructions are difficult to see as they are black and white photographs. I would recommend that Thule get some nice drawings made. The multi layer covers are great as they enable to make changes depending on the climate and the weather changes. Should be plenty cozy during winter as it is during Summer. The large diameter wheels, inflatable tires, and leaf suspension in the rear means this thing can go over almost anything while running and do so smoothly. Being able to use this on road and off is great as well as the kits allowing us to use it with our bikes is a big plus. Because the jogging kit, strolling wheels, and bike trailer arm kits store on board the stroller, they allow one to change from one kit to another when their needs change. For example, say you run or bike to a mall, park, etc. and you want to be able to push and maneuver the stroller easily, one could remove the jogging or bike kit, store them onto the Chariot's attachment points, and put the strolling wheels on and do so. Heck, if you could make it float one could do a triathlon with their baby. I haven't taken up cross country skiing again but this might just be motivation to do so as there is a ski kit for this as well. This really is a go anywhere anytime stroller.

I did notice the brakes were rubbing a bit and since I have the tools and know how, I adjusted the drum brakes myself. If one is not comfortable doing so, I would take it to REI or another dealer and have them look at it. A local bike shop may be able to do this to, but drum brakes and single sided hubs are not that common on bikes so perhaps a trike mechanic or a wheelchair mechanic would be more experienced.

We have not had any issues with the stroller wheel alignment as another reviewer had on amazon.com. They do have an outstanding warranty on paper and I know through other Thule products that Thule stands behind their products so if anyone does have a problem, I wouldn't hesitate to contact Thule.

The stroller is bulky both in the house and on the road, but the features, versatility, safety, and quality make it a must have for us. For in town use such as shopping or short walks we use our NUNA Pepp which is compact and lightweight travel system stroller which is also great as it doesn't sacrifice on quality and features we use. Between the Pepp and the Chariot we are all set.

We've bought some additional kits as well. We've bought the cycling towing kit, the strolling wheels, and the infant sling. All high quality and all easy to use.

The strolling wheels are not your typical cheap plastic wheels. The wheels themselves are plastic but are very thick and tough. The tires are not inflatable so no worries about getting flats. The fork that attaches the wheel to the Chariot stroller is a nice and solid, thick piece of extruded aluminum that has been precisely machined to accept the axle and the head pin. The quality is outstanding as would be expected for the price and from Chariot and now Thule. These wheels make the Chariot shorter than with the jogging wheel and make the turning much easier.

I have read some blogs where people were using these instead of the jogging wheel. While it may work, I would not recommend it for this purpose myself because theses wheels do make the stroller turn extremely quickly and if they were to catch in a rut or something an turn the stroller. While walking this would not be much of a problem, but at running speed this could be quite violent and they could presumable cause the stroller to flip, turn into traffic, or off the path. In addition these stroller wheels are solid rubber and do not provide any vibration dampening as would the jogging attachment's inflatable tire.



Most helpful positive reviews
Most helpful negative reviews
Similar items and more information in the following areas: