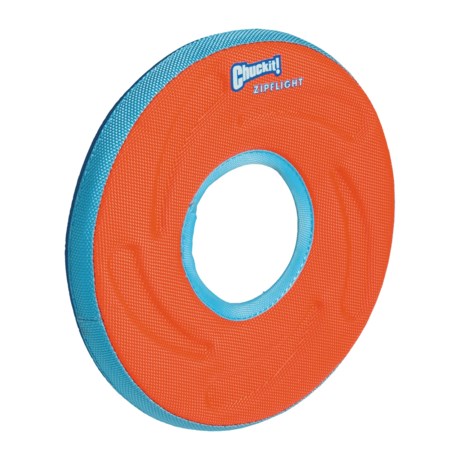 Nice, but not as good as others
Reviewed by Davey Crockett from Tennessee, California on Monday, March 14, 2016
Bought this on a whim after reading the great reviews. Very well made, our 4 y.o. 42-lb English Springer Spaniel can't seem to chew her way through it. Plus, she seems to like her new toy just fine as part of her little menagerie of toys. A few things that make the ChuckIt Flying Ring not a great toy, and why we and our pup love the Floppy Disc "Soft Bite" much more:

- Not super aerodynamic. The buoyant rubber material is heavy. Coupled with the large hole in the middle, the disc does not stay airborne for long; Floppy Disc, by comparison, glides and stays aloft with ease.

- Unstable flight. Compared to our comparably sized Floppy Disc "Soft Bite" that travels fairly straight and level (if tossed that way), the Chuckit version always seems to list to one side.

- Not great for direct-to-dog tosses. Maybe a very big dog would be OK with it, but for only an 8" diameter this disc is really HEAVY, and results in serious hard impact when tossing directly to the pup. She understandably always ducks away and avoids it.

I dunno. For six dollars and change, maybe we'll keep it anyway. However, generally would not wholeheartedly recommend this toy for smaller than a 60-lb dog.


Most helpful positive reviews
Most helpful negative reviews
Similar items and more information in the following areas: