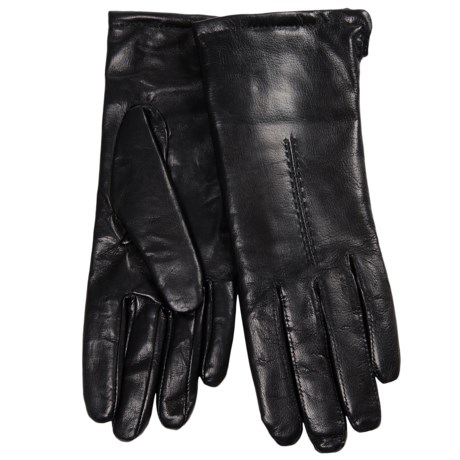 Don't know about any rating but I will say I have used them for dog walking as cold as it gets here in the No CA mornings, down to 34 degrees, and I was warm enough. Sort of a Thinsulate type lining. I use them mainly for morning dog walking and if its cold in the car for driving and I would say they wouldn't fit the bill for really cold temps. Hope this helps. Just get them, at this price, what can you lose? Nice leather and comfy - just remember to go up a size...

No, however, they're windproof and we've hand them on at temps approaching 0.

I got these for my Mom for Christmas, but for me this type of glove only makes it possible for my hands to not experience the direct cold air. They are very nice gloves; the leather and sewing are quality. I have never thought that fingered gloves have kept my hands warm in really sold temps. I use this kind f glove myself for driving and doing errands. While they say "warmly lined" I would only expect them to be warmer in the kind of situations I use leather gloves for.

Sorry there is not a temperature rating. Most manufacturers do not have temperature ratings for their garments or footwear due to the number of factors that affect how warm a garment may keep you.