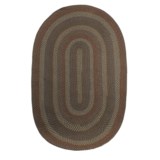 Overstock fabric. Simply styled with a down-to-earth feel, Colonial Mills' reversible rug offers your fill of handmade charm with their new Thimbleberries fabrics tied together in flat, chunky braids.
Reversible design for twice the wear
Dimensions: 6x9'
Material: 70% polyester, 30% cotton
Care: Spot clean
Made in USA

Must ship UPS Ground within the 48 contiguous U.S. only. An additional $40.00 shipping fee will be charged due to the item's size/weight.
Average Rating based on
8
reviews
4.250000
0
5
Reviewed by Matt from New England on Tuesday, November 6, 2012

The rug is attractive, however don't make the mistake that I did and expect something anything like a braided wool rug. From a distance or even standing on it it looks fine/good, but on closer look and feel the materials just don't do it for me and scream "my owner cheaped out by not buying a wool rug".
It appears that the substance of the braids are bunches of polyester threads wrapped in a cotton covering of various colors and patterned designs. It makes for a much less inviting feel than wool- coarse rather than soft- that you can easily feel with both hands and feet. It is also considerably thinner and flatter than a typical wool rug. Whereas the lines of braids on a wool rug tend to form ridges with some depth, this is totally flat straight across.

Also my example has a very obvious defect on one side where the cotton has frayed apart exposing the ugly white polyester. So it is not "reversible" as advertised... this bugs me because this was not sold as a "second" but clearly is, or should be.

Still, I give 3 stars because of the value @ STP for the money- it is not really fair to compare to a wool rug and it does look nice, at least the side that is not defective. However, at full retail it would be 1 star or less.

Cons: Slips Around
Pros: Attractive Design

Verified Buyer

Reviewed by Pogo from Stillwater, MN on Friday, February 17, 2012

Used in kitchen;under kitchen table

Cons: Unattractive
Describe Yourself: Practical
Primary use: Personal
Pros: Not attractive, Slip Resistant

Verified Buyer

Reviewed by logan's mom from West Linn Oregon on Friday, November 11, 2011

It is an oval shape - which softens the appearance and is pleasing to the eye. Great discount for these durable rugs

Best Uses: Bedroom, Den, Wood Floors
Describe Yourself: Practical
Primary use: Personal
Pros: Durable, Easy To Clean

Verified Buyer

Reviewed by Nana 53 from Indianapolis,IN on Thursday, November 3, 2011

Purchased several of the rugs for my country home. Nice that same color is in many different sizes.

Best Uses: Bedroom, Den, Entryway, Kitchen, Living Room, Wood Floors
Describe Yourself: Bargain Hunter, Practical, Stylish
Primary use: Personal
Pros: Attractive Design, Great color

Verified Buyer

Reviewed by TisInow from Brooklyn, NY on Wednesday, January 5, 2011

I ordered this for painted wood floors in my country guestroom which will be where my grandbabies stay when they visit. The rug made the room look like it should be in a magazine!

Best Uses: Bedroom, Wood Floors
Describe Yourself: Bargain Hunter, Practical
Primary use: Personal
Pros: Attractive Design, Country guestroom perfect, Durable, Super Quality, Unusual braided rug

Verified Buyer

Reviewed by Angie King from Columbus, GA on Friday, December 17, 2010

I had this rug in another color that was 5 yrs old but after having a puppy last Christmas and keeping her in the kitchen the rug had seen a few accidents. I was also ready for a color change and went for this one that has mostly brown tones. I love the rug just as before. It looks great under my kitchen table and crumbs vacuum easily. There is curling of the rug of one end that I do not recall with my old rug that will hopefully flatten down in a few weeks. Price was right but could have saved an additonal 20% if I searched for promotions.

Best Uses: Kitchen
Cons: Curls Up At Corners, Spot clean only
Describe Yourself: High-End Shopper, Practical, Stylish
Primary use: Personal
Pros: Attractive Design, Durable, Easy To Clean, Slip Resistant, Stain Resistant

Verified Buyer

Reviewed by cincy chris from cincinnati, ohio on Sunday, October 24, 2010

nice rug, good deal!

Best Uses: Bedroom, Den, Wood Floors
Describe Yourself: Bargain Hunter
Primary use: Personal
Pros: Attractive Design, Durable, Easy To Clean, Slip Resistant

Verified Buyer

Reviewed by LoveSTP from Syracuse, NY on Thursday, August 19, 2010

Very attractive rug. The value was hard to beat. The color was not as pictured, the color I purchased - Roasted Chestnut (I think that was the name) actually had a light teal green running through it. If you have specific colors, you might want to check with customer service to see if they can't help with a more accurate description. This color did work however even though it wasn't expected. I gave it 4 stars because I was hoping it would be just a bit thicker, but I would definitely not hesitate to order this if you are interested.

Best Uses: Bedroom, Den, Kitchen, Living Room, Tile Floors, Wood Floors
Pros: Attractive Design