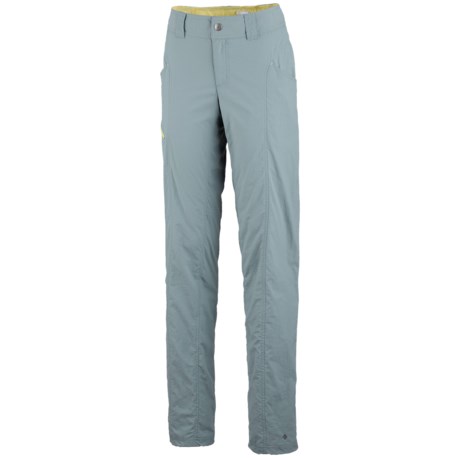 Yes a phone would fit in the pocket. However, like other reviews have said, these are more form fitting than most hiking pants, so depending on how long you're hiking it might not be the most comfortable.

There is a narrow zipper pocket on the right leg, and a velcro hip pocket, plus the normal hand pockets. A smart phone would fit in any of them. This is a slim fitting pant, I wear a 6, and have two pairs of these. They are flattering and comfortable. I get them when there is a 40% coupon through Facebook:)

There is a fairly deep zippered pocket on the right leg at about mid-thigh that comfortably holds my iPhone 5.

They're not technically pants with a cargo pocket, but there is a secondary, zip-top pocket that can easily hold a smart phone. It holds our iPhone 3 with plenty of room to spare.

The zippered pocket on the right thigh does hold my iPhone 5 with no trouble.

Yes. I can put a 7" tablet in the pocket.