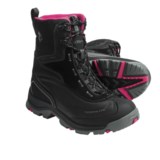 Closeouts. Columbia Sportswear Bugaboot Plus boots feature a partial leather upper and 200g Omni-Heat® insulation in a lightweight package, for maximum protection in cold and snow.
Average Rating based on
105
reviews
4.247619
0
5
Reviewed by abuse my stuff from north america on Sunday, March 22, 2015

These boots are AMAZING i have put them through 3 years of abuse and they are still in good condition. As an avid equestrian and outdoors woman they have been through lots of rocks,mud,snow,creeks and manure, if you are still questioning these boots my advice is BUY THEM you will not regret your purchase. they are durable quality and worth every penny!

Verified Buyer

Reviewed by LAR from Massachusetts on Wednesday, January 28, 2015

I had been looking for a good winter boot that was comfortable, warm and had excellent traction. Living in Massachusetts, we get some really awful weather sometimes. These boots fit everything I wanted. They're even nice looking with jeans. They don't look like huge, clunky boots but they have everything you need in a boot. i'd definitely recommend them.

Verified Buyer

Reviewed by k8 from michigan on Saturday, December 6, 2014

I am returning the boots. They are very stiff and rub against my inside foot bone. I know I will get blisters if I wear them. They're very tough and I don't think they can be broken in like other boots. The boots have a nice fabric in it and keep your feet warm.

Reviewed by Just Fluff from Washington, DC on Sunday, May 18, 2014

On the plus side, these boots seem sturdy and come upto my mid-calf. Unfortunately, they are much too narrow in the toe box when wearing thick socks.

Verified Buyer

Reviewed by Nick from NJ on Thursday, April 24, 2014

beautiful, warm and very cute

Reviewed by Sarah from madison, wi on Monday, March 31, 2014

These boots are great as far as keeping my feet warm and dry, but they could be improved by some arch support and a less rigid upper. I took out the insole they sent and added one with arch support and they worked much better. I tried on my mom's bugaboots from a previous year/different model, which were more comfortable. These were at a great price, so I decided to keep them.

Reviewed by isisxvx from New York on Wednesday, March 26, 2014

These are the first pair of hiking boots I've ever bought....suggested by a friend who uses this site a lot. And I LOVE them!!!!

Reviewed by K from Philadelphia, PA on Monday, March 24, 2014

These boots fit great and are nice and warm. The upper portion is a bit stiff and difficult to break in, but they're a great addition to my winter closet. Also, I have small feet, and these fit true to size.

Reviewed by prepper from Montana on Thursday, March 20, 2014

AWESOME boot. Warm, comfortable, well made, nice looking, and a great deal.

Reviewed by Veronica from Connecticut on Wednesday, March 19, 2014

Hallelujah! Finally no more freezing feet ! These boots are a godsend. In ct it's cold. I was searching for months for a good pair of warm boots these are waterproof and insulated. I am so happy. I will never give these boots away.warm as toast.

Reviewed by Abby from Wisconsin on Friday, March 14, 2014

My daughter loves the boots. She said that they are so warm.

Reviewed by PICKLE from BOSTON on Wednesday, March 12, 2014

WARM, HIGH ENDURANCE, GREAT BOOTS!! SO GLAD i MADE THIS PURCHASE

Reviewed by NicholeL from San Diego, CA on Tuesday, March 11, 2014

Boots are so comfortable and warm! They are true to size and I have wide, flat feet and I wore them with thick socks and still, they fit perfect! Totally worth the money spent! I wear them all the time in cooler weather, with my jeans or leggings!

Reviewed by Amy S from Michigan on Monday, March 10, 2014

After the winter we've had this year I decided to treat myself to some nice winter boots for once (after my old boots left me with a soaking wet foot). I was able to get these boots for 1/2 the price they were listed for on other websites and the shipping was extremely fast!
After wearing the boots now for a couple weeks I would definitely give them 5 stars! These boots are SO warm and the traction is great! I did notice they were snug around the ankle until they started to break in. I can only imagine this will get even better the longer I wear them!


Reviewed by Long, Cold Minnesota winters from Minnesota on Sunday, March 9, 2014

I had to buy these boots at the end of the season because my old sorels had so little tread left. These are great boots, appear to be very warm, but they still get cold on the sole. There is plenty of room to put orthodic sole in them They are also very stiff at the ankle. It feels like I am walking around in a ski boot, but that is ok with me. I would recommend these boots.

Reviewed by Delivery Chick from Michigan on Thursday, March 6, 2014

This is the warmest lightweight boot I have ever worn, but that is only 1/2 of the story. I find them very uncomfortable to wear. They are very stiff and have absolutely no arch support or cushioning in the foot bed. I am on my feet 10-12 hours a day doing deliveries or standing on my feet. These are not the boots for that. Even wearing them for a few hours makes my feet and legs hurt. I put in a comfort sole but this is not enough to offset the stiffness of the sole. There is no bending, it is like walking on two boards. I wish I had worn them around the house for a few days so I could return them, I kept thinking they would loosen up, but it has been several weeks and they still feel the same. I have actually stopped wearing them. I would not recommend them if comfort were a criteria.

Reviewed by Roger B. from Mooresville NC on Tuesday, March 4, 2014

Bought these for my wife and she loves the colors and says they are very comfortable and warm. We're ready to go play in the snow.

Reviewed by Kathy J. from New York on Tuesday, March 4, 2014

These boots are pretty true to size. I have already tested them in slush and puddles and this past weekend frigid temperatures. Warm and waterproof!!

Reviewed by tj from Oklahoma on Monday, March 3, 2014

I bought these from the Columbia store so was able to try them on. I wear a true 8.5 and really the 8s fit great but I wondered while out in the snow I wouldn't have really thick wool socks or two pair on so decided to go with the 8.5 for the extra room. I have them on now with a regular cotton pair and there is plenty of room. My legs are very thin and wonder how uncomfortable you would be in these if you had any thickness to your legs/ankle/shin area. They are tight and stuff and have irritated me a bit but hope when I wear thicker socks or get them broken in a bit they will be more comfortable. They are pretty cute for a snowboot - not going to get non clunky boots that look great and still keep your feet warm.

Reviewed by Mighty Quinn from New Hampshire on Monday, March 3, 2014

These boots are very warm and fit well. Ordered 1/2 size bigger as they run small. Shipping was fast, recieved items within about 2 days of ordering.

Reviewed by Jables from Grand Rapids, MI on Monday, March 3, 2014

My normal shoe size is an 8-8.5, so I ordered up thinking a 9 would give me a little extra room for warm socks. Well, they are HUGE. An 8 probably would have been plenty roomy! I kept them mostly because I'm only going to wear them 2 or 3 times a year. I wore them for an outdoor all day event and my feet stayed nice and cozy and dry all day with just a pair of thicker socks on.

Reviewed by Daisy from New Jersey on Sunday, March 2, 2014

These boots fitted my feet correctly. I walked around the house and felt comfortable with them. Of course, the real test will be conducted outside. This Monday we are expecting a snow storm. I will use these boots then, and I will know if they are good boots or not.

Reviewed by Sue j from Chicago on Friday, February 28, 2014

The fit is tight so plan for extra room if you're wearing 2 pr socks. I'm a crossing guard so most of the time i just "stand" in one place. So far I haven't found anything I can wear at 8 degrees outside, & not need toe warmer inserts. These work pretty well at 20 degrees with 2 pr socks. Waterproof seems to work. My only real problem is the upper part of the boot is not flexible and irritates my shin area. My remedy is not to lace it all the way up. Overall, this was a decent buy in my search for a waterproof, warm boot. If you move around, I'm sure it keeps you warm enough.

Reviewed by Melissa from Ohio on Thursday, February 27, 2014

I love the look and functionality of these boots. I will say they came up a bit higher on my leg than I anticipated, which effects the comfort somewhat. Other than that, great pair of boots for the price!

Reviewed by Sue from New York on Thursday, February 27, 2014

Love these boots. They are great in the snow and ice. The only problem is that they are a bit stiff in the ankle, but I guess with wear they will soften.

Reviewed by Rachel from New York on Thursday, February 27, 2014

These boots are perfect for cold, wet weather. My feet stayed so warm and dry. I work outside and I needed something for everyday use and they were just what I was looking for. Plus you cant beat the price. I would recommend these for anyone looking warm long lasting winter boots at a reasonable price.

Reviewed by Wise Shopper from Mid-Michigan on Wednesday, February 26, 2014

I've had these boots for about 2 weeks, and have worn them only three times. This is because I don't want the heaviness of walking in them if it's not necessary. If there is more than a couple of inches of snow, or I have to be outside in cold temps and wetness for more than a minute or two, I would wear them.
These boots are very warm. The longest period of time that I've worn them outside for was only five minutes, I was shoveling snow, and my feet stayed perfectly warm. I realize five minutes is not a very long time, I intend to test them more thoroughly very soon, and update my review.
As far as dryness goes, they are great. I've walked in slush for two blocks in these boots and my tootsies stayed warm and dry.
Only con in my opinion is how big and clunky they feel. I feel like a lumberjack when I'm in these. This is why I didn't give them a five star rating, maybe that's not fair to Columbia, but it's my opinion.
Not feminine in the least, but I would rather be ready for inclement weather than make a fashion statement.
My #1 goal was to have boots that stayed dry, and I feel that has been achieved.
One more note: the socks you wear with these can make a big difference. I went a half size up to compensate for thick socks, and I feel that was a good choice. It makes more sense to me than wearing my usual ankle socks.
Good luck, shoppers!

Reviewed by Tracy winter boot from Burbank on Tuesday, February 25, 2014

My mom and I love our boots. They are exactly what we were looking for. They came at the right time, right before the last big snow storm. I also feel like they were shipped and dealered before I expected them.

Reviewed by Ed the Electronic Recycler from Wexford, PA on Tuesday, February 25, 2014

I started an electronic recycling center last February in Wexford, PA. Didn't think any thing about loading electronics in the snow because last winter was cold but, not a ton of snow....flip forward to the winter of 2013 into 2014. We have had record snowfall and working outside with [...], non-waterproof boots is miserable.

I was guided to Sierra Trading Post due to my membership with Ebates. So I looking for waterproof and insulated boots....I am so happy I did. Found the great Columbia Bugaboots with Omni Heat...ordered and had the boots delivered with no problems...

My feet are toasty and the recycled electronics are getting stacked by a much happier Jenn Carr.

Thanks Sierra Trading Post !!

Reviewed by Caferacegirl64 from Howell, NJ on Tuesday, February 25, 2014

I had to return these boots for a couple of reasons. The first was the last (shape) which was way too straight. If you have a high arched, curved foot you would not do well with these boots. The boot actually hit my toe on the side, although the toebox was very roomy. You basically could put the right boot on your left foot and there wouldn't be much difference. The second reason I returned them was how stiff they were around the ankle. I could not imagine walking very far in these boots without developing some kind of pressure point(s) from the lack of flexibility. It is a shame they were so unsuited to my foot as I did like the styling and colors. As to the sizing, I always size up 1/2 in boots so I can wear heavy socks. I would say they were true to size.