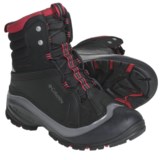 Closeouts. Columbia Sportwear's Bugalite Omni-Heat® winter boots let you work or play outside in the cold without weighing you down. 200g Thinsulate® insulation and an Omni-Heat® thermal reflective system are wrapped into a ultralight Techlite® shell.
Average Rating based on
19
reviews
4.105263
0
5
Verified Buyer

Reviewed by Day Hiker from Harriman NY on Tuesday, January 22, 2013

My first use was a slushy and muddy hike. They kept me feet warm and dry.

Verified Buyer

Reviewed by DJ from Alta, UT on Saturday, January 19, 2013

Perfect boot for traveling to and from work at the ski resort.

Verified Buyer

Reviewed by Gene O. from Hill, NH on Thursday, January 17, 2013

Felt comfortable as soon as I put them on. Wore them all day yesterday, during a snow storm and they were great. Just what I was looking for!

Verified Buyer

Reviewed by discgolflover from Madison, WI on Monday, January 14, 2013

I went out on a limb and bought these as a gift, and my fiance loved them. Fit like a glove right out of the box, and were exactly the style and weather equipped boots he wanted. I highly recommend these!

Verified Buyer

Reviewed by Busted Yuppie from Pacific Northwest on Wednesday, January 9, 2013

These boots are stylish and have a nice contrasting color scheme, which is what caused me to order them. Once I got them and began to inspect them, there were two construction issues that were deal-breakers for me:
1. There are no hooks at the top of the boots for the laces. Instead, there are heavy duty nylon fabric "eyelets" for the laces to go through. With a boot of this height, what that means is, you have to pull the laces back through the top three eyelets in order to get them off of your feet. With hooks, you simply drop the laces out of the upper two hooks and maybe pull a little bit out of the next set of eyelets, and boom, the boots are loose enough to get off your feet. In my opinion, this is a design flaw on a boot of this height. It might not be an issue on a shorter boot, but on tall boots, you definitely need hooks to make the boots easy on and off.
2. The plastic rand that surrounds the lower part of the boot looks cheap and not very sturdy. In fact, it looked to me to really contrast with the uppers of the boot, which appear to be well-made. The stitching area between that plastic rand and the leather/fabric upper is a fail point and I've had another pair of Columbia boots that failed and the upper separated from the lower in that spot. (I didn't buy those boots from STP.) After that boot failure, I purposely started looking for boots that had a more sturdy stitching and especially a design that would prevent a blow-out between the uppers and lowers.
I bought the Columbia Sportswear Bugaboot Plus Omni-Heat® Winter Boots from STP instead of these Bugalites and I like the upper to lower construction a whole lot better, plus they have 2 hooks on the upper part of the boot for the laces. Link to the Bugaboot Plus: http://www.sierratradingpost.com/columbia-sportswear-bugaboot-plus-omni-heat-winter-boots-waterproof-for-men~p~4502k/?colorFamily=01

Be advised when you buy these Bugalite boots for what you're getting, but the caveat is, I am not a professional reviewer, or pro outdoorsman. However, I have been an avid hiker, snowshoer, skier, and outdoorsman for 40 years and I know a thing or two about good gear, what works, and what doesn't. Your mileage may vary with your experience with these boots.

Verified Buyer

Reviewed by Dan from Livermore CA on Wednesday, January 9, 2013

These boots are great for the snow and cold weather. They seem to run true to size.

Verified Buyer

Reviewed by Marucho M. from Santo Domingo, Dominican Republic on Wednesday, January 9, 2013

This product is great, feels good and is not heavy. Looks good and you can use it at any time.

Reviewed by Chaz from W. Massachusetts on Monday, January 7, 2013

They seemed to be good boots. Well crafted. Too bad they did not fit properly. The issues I had with them was a very stiff upper which made it difficult to put on with heavy socks. In addition the boot was way to wide for my feet even though it was a normal width boot. I returned them for a full refund.

Reviewed by CAGY from North Bangor , NY on Sunday, January 6, 2013

After reading other reviews I ordered a full size bigger than I usually wear; they fit just right. They have kept my feet warn and dry from shoveling snow to being out on the snowshoes. They are light weight for a winter boot.....much lighter than my old pac boots and they look good too. The tops are still a little stiff but as with most new shoes and boots they need a break in period to losen up. Bottom line is I want my feet to be warm and dry and these boots have proven to give me both. I havent used them in the extreme cold yet. They're supposed to be good to 25 below 0 but I dont plan on being out if it gets that cold so I will probably never know.

Verified Buyer

Reviewed by northsider from Missoula, Montana on Thursday, December 27, 2012

This boot, got 4 stars because even tho it was a lil big, it was an amazing price. Its comfort is par-none and they look amazing! They do not have that bulky snow boot feel they are more of a athletic running shoe feel once you get them to fit correctly!