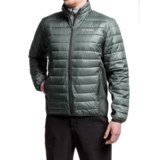 Closeouts. All the warmth without all the "puff," Columbia Sportswear's Elm Ridge Hybrid Puffer jacket sheds moisture, cuts through the cold and provides a warm insulating layer that takes the chill out of winter.
Questions about this product? Get answers from community and staff experts.
Question
(1 Questions)
Answer
(1 Answers)
"Hello, is this a jacket that is beneficial as an outer jacket, not just an inner layer?"

Yes, this can be worn as an outer jacket.