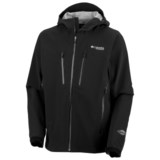 Closeouts. Columbia Sportswear's Fast Three shell jacket features a waterproof, fully seam-sealed shell with Omni-Tech® Cyberstretch fabric to keep you dry and allow for full range of motion.
Average Rating based on
25
reviews
4.320000
0
5
Reviewed by fly2mike from Pac NW on Friday, December 30, 2016

I have had this coat for 4 years now and it has held up fantastic. I ski in the Northwet in all kinds of weather, and I must say this Columbia Titanium coat has been bomb proof! Thanks Columbia.
I have a large which is too big for me 5'8" 165 pounds, but I like it that way, fits perfect over my helmet, and gives me plenty of room for layering and freedom of movement.

Verified Buyer

Reviewed by Peter from New jersey on Tuesday, July 7, 2015

Well made and you can't beat it for the price. Only thing on the down side is the zippers are a little hard to open and closed. But they are water tight.

Verified Buyer

Reviewed by Jeff from Kentucky on Tuesday, June 16, 2015

In my opinion, you cannot beat Price/Quality balance of these Columbia titanium shells. Especially for the price on STP!!!

Honestly get yourself one now!! These are tough and bomb-proof against weather. The strong omni-tech material is comfortable and durable.

These fit big on me. I am 6 feet and 210 lbs. The XL is huge on me. Would buy large.

Verified Buyer

Reviewed by BMW from Columbus Ohio on Thursday, April 10, 2014

Columbia Titanium product line I've always found to be Columbia's highest quality ski line and this jacket meets that expectation. The lining workmanship that I see is excellent. Quality lining, excellent zippers and the most wonderful zipper handles of any jacket I've purchase even at double this price range. Even a little key ring strap holder inside the pocket is a little extra touch you don't find on $500 Mountain Hardwear shells. The hood is very nice with a good brim. At these lower MRSP prices you can't expect the higher end breathability or Omni-heat feature. Columbia usually always runs true to size for me (XL). But because I wish to have the option to have a down jacket mid-layer underneath for skiing or on cold day hikes/walks I order 2XL. If one is slim and trim and in the middle to lower end of the Columbia chart size ranges one need not order up to layer. While my 48 inch chest and 34-35 inch arms are just right for a XL my 44 inch waist pushes the bounders in the belly area, another reason I order 2XL. There is nothing unusual about the arm length in this jacket. Short folks and stocky folks will usually always find the arms feel way to long for them. That's another reason for the Velcro wrist straps. Over all I've giving this 5 stars based upon it's quality to price ratio. But remember a "Shell" isn't an "insulated" jacket. But the point of a quality shell is to allow you to purchase a separate mid-layer insulation liner be it a down, wool or any other jacket/liner for use on colder days.

Verified Buyer

Reviewed by dj from Glenview IL on Friday, February 22, 2013

Comperable to more expensive brands

Reviewed by Kilo KIlo from Baltimore, MD on Saturday, February 16, 2013

This is a fantastic jacket. Waterproof, yet the pit zips and pockets zip offer tremedous venting. Note: that the hand pocket let in major air when unzipped. I am 6' and 195 lbs, and a large fit perfect. The only problem we had is that they glued together parts of the jacket. On the first use, I unzipped a vest pocket and it "fell out" of the jacket, the glue just gave way... bummer, but will probably try another...

Verified Buyer

Reviewed by PAhiker from Central PA on Sunday, January 27, 2013

I gave this jacket 4 stars because an item needs to be really fantastic to earn 5. So, this jacket is much above average and a very good value when purchased from STP with coupons. I have only worn the jacket on one hike, so this review should be read on that basis. Construction is very good and high-end. Ventilation and breathability are very good -- no accumulation of moisture after a vigorous hike in below freezing temps -- that was a critical issue for me. No test yet in the rain, but others have commented on that. One reviewer had water in the pockets, but I can only assume he negelcted to zip them up -- no way water gets in unless you go swimming. The wire in the good is a cool feather that I really like. One reviewer commented that there was no hood draw string, but there are 2 -- one around the face and the other around the top of your head. Some complained about the armpit zippers poking arm pits. That is true to an extent, but I found that making sure the interior flap is in the proper position (you would want that for water protection anyway), sliding the zipper things to one end, and sort of forming the actual zipper to the underside of my armpit made a big difference. After 5 minutes of hiking the annoyance was forgotten. Another reviewer commented on the fabric -- it's very nice stuff. I like that its not the crackly nylon but has a softer feel to it. The addition of spandex is perfect. I plan to use this jacket for travel when I know there will be rain (recent trip to UK prompted the purchase), hiking in PA, and sailing on L. Michigan.

Oh, and the long sleeves. I have short arms for my size (5'- 11", 155lbs 31" sleeve is ok) so this is not a credible complaint realy, but the sleeves are rather longish (couple inches max) which isnt an issue even for me because the velcro takes care of the problem There may be times when you want sleeves over hands, who knows?

Verified Buyer

Reviewed by Jimbo from saratoga NY on Thursday, January 17, 2013

The jacket has a quality look and feel. Columbia Titanium series jackets have a slimmer/ athletic fit compared to their regular jackets.So an XL fits perfect for me except for the sleeves which are a little long but can be cinched up.What I dont like very much is the metal wire in the hood to retain its shape whicH can be a little uncomfortable when it touches the back of your head when the hood is not in use. No big deal but I may bring it to a tailor and have the wire replaced with a more pliable material.

Verified Buyer

Reviewed by Pete from Baltimore, MD on Monday, December 24, 2012

In the warmer winter weather we've been having, the extra long sleeves are a bit of a nuisance. However, I expect that the hiking in cold weather I'll be doing end of January will make me grateful for the overlap between glove and jacket.

Verified Buyer

Reviewed by Loves to hike from Cincinnati, OH on Monday, December 10, 2012

Great jacket. Love the color and the fit - stylish. Zippers are in perfect place for wearing a backpack. Fabric is a bit tougher/heavier than a lot of the membrane jackets, which feels more sturdy - just what we wanted - but not too thick/heavy. Still a light weight jacket. I have not had a good downpour to test this outside, but I have no doubts it will be great. Will wear it for hiking, standing at my kids sporting events, and even skiing.