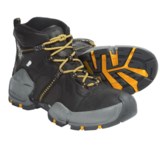 Closeouts. Built for adventures where you're facing technical terrain, cold temps and stormy conditions, Columbia Sportswear's Hells Peak OutDry® hiking boots have an Omni-Heat® thermal reflective lining, a high-wrapping TechLite® midsole for support and waterproof breathable protection for dry, comfortable feet.
Average Rating based on
11
reviews
4.545454
0
5
Verified Buyer

Reviewed by Vlad from Belarus on Tuesday, January 12, 2016

Warm, comfortable.

Reviewed by B.H.HAN from NJ on Tuesday, October 22, 2013

I like these boots It is warm and comfortable

Reviewed by Scott from Oregon coast on Friday, October 18, 2013

These boots were put in service as soon as they arrived. They were flexible and comfortable from the start, no break in period needed. I am delighted with them!

Reviewed by yuri leontev from kamchatka ,russia on Tuesday, October 1, 2013

excellent boots! ! ! ! maintain any loadings, I after a campaign on the marsh wood, came on car wash and washed under pressure of water - don't get wet, warmly, comfortably and comfortably

Reviewed by nbr1elktalker from Montana on Wednesday, June 26, 2013

hard to put boots to the test, for the cold weather. They are very comfortable boots. and will be tested this coming winter for sure.
Hard to rate. the four star ratting is because the glued seams seam to not be completely covering all the surfaces. it looks like they might come loose right away. But I can't say for sure. Wish I could be more help.

Reviewed by Ghost Bear from Florida on Thursday, May 30, 2013

These boots fit great! They are true to size and are very comfy. Am wearing as regular shoes to break them in before my hike and they seem to be breaking in nicely. Thanks STP for the quality product at such an awesome price!

Reviewed by Sara the Highway Inspector from West Virginia on Wednesday, May 29, 2013

This boot seemed like it was going to be a good boot, but I really did not get a chance to find out. After one day of wear, when I returned home and took them off, one of the eyelets had pulled out of the boot. So I sent them back the next day. I did like how light and comfortable they seemed and wished I had more to tell.

Reviewed by Rubelio from miami on Thursday, April 11, 2013

the product filled my expectations. very good

Reviewed by Seattle Scouter from Seattle area on Monday, February 11, 2013

Size: I usually wear 11W. Based on reviews from various sites, I ordered 11.5W and that was perfect (I'm wearing them now, and they feel great).

Break-in period: I think you could hike in them out of the box, though I'm wearing them for a few days to make sure they're broken in before this summer's hiking activities kick in (there's a 50 miler in July, so I wanted these to be ready). It does seem like they are getting a little more comfortable as I wear them (they arrive a bit stiff, though not too bad).

Note that the shoe laces are unique and you won't be able to get **exact** replacements (I spoke with Colubia and they do not have replacements of any kind that are anywhere near the same thing in color or type... I'm not kidding, though I was surprised at that answer). Clearly this is far from being a big deal, but you might give some thought to replacements for when they wear out down the road. Columbia pointed me to an express shoe lace online business, though I did not care for what I found there. There is an online bookstore you might know about that has some great options.

Outer design: as I've read in other reviews, yes these are designer boots with the look of the current century. If you'd prefer a boot that looks like it would fit Roger Moore from an old James Bond movie, then these would not be for you. I think they're very cool. Note that while they are not a thin profile boot, they are not fat boots either. Have you ever worn shoes that felt so big you needed to walk differently to make sure you don't trip? That is not an issue with these boots.

Inner design: Columbia put a whole lot of thought into this boot's perfomance design, and it is clearly designed for Alpine adventure. I'll first point out that they are not heavy (I saw a review to that effect, and that person must be a "gram counting" through-hiker, because 99% of other boots seem to be heavier than these). The support is sure-footed, and the inner mid-sole provides a perfect and rigid pivot point for when you're hiking with a load (think about needing boot-rigidity when you have a loaded backpack on and you're ascending/descending rocks). Top marks here.

One last thing: insulation. These boots have insulation that is comfortable indoors and out. For summer hiking in the heat, that may prove to be too much... I won't know until I try it. Also, I don't know how warm they'll keep you in various winter weather. I'm wearing them indoors with thick wool socks and I'm toasty though not hot. That tells me they're probobly fine at 30F, but not likely at 20F. To be clear, I'm not yet testing them in those temps, so I can't be sure.

Good luck!

Verified Buyer

Reviewed by scooter from Cheyenne,WYO on Wednesday, January 23, 2013

I work in the cold Wyoming Winters....These boots are great!